Benzinga's M&A Chatter for Monday January 26, 2015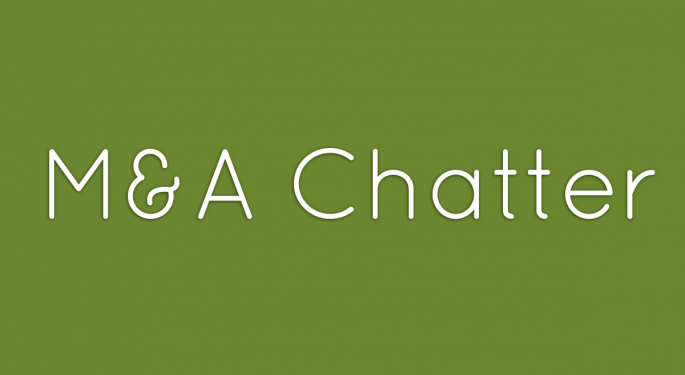 The following are the M&A deals, rumors and chatter circulating on Wall Street for Monday January 26, 2015
Lakes Entertainment, Golden Gaming Announce Merger Agreement
The Deal:
Lakes Entertainment Inc., and Golden Gaming, owner and operator of Golden Gaming, LLC, announced Monday a Plan of Merger. Under the terms of the agreement, Lakes is valued at $9.57 per share, subject to working capital and various other adjustments under the merger agreement.
Lakes' current shareholders would retain approximately 64.3% of the total post-merger shares of Lakes common stock when the deal closes, which is anticipated by year-end 2015
Lakes Entertainment shares closed Monday at $7.70, up 10%.
Energy Transfer Partners, Regency Energy Partners to Merge in ~$18B Unit-for-Unit Deal
The Deal:
Energy Transfer Partners, L.P. (NYSE: ETP) and Regency Energy Partners LP (NYSE: RGP) announced Monday, they have entered into a definitive unit-for-unit merger agreement. The agreement includes a one-time cash payment to Regency unit holders, implying a value for Regency of approximately $18.0 billion.
Regency unit holders will receive 0.4066 ETP common units and a cash payment of $0.32 for each common unit of Regency, implying an all-in price for Regency common units of $26.89 per unit based on ETP's closing price on January 23, 2015.
The deal is expected to close in Q2 of 2015.
Energy Transfer Partners shares lost 6.5% Monday, closing at $61.31. Regency Energy Partners shares gained 5%, to close at $24.93.
Actavis Reports Purchase of Auden Mckenzie for ~£306M
The Deal:
Actavis plc (NYSE: ACT) and the owners of Auden Mckenzie Holdings Limited announced Monday, that they have agreed that Actavis will acquire Auden Mckenzie for approximately £306 million in cash, plus a two-year royalty on a percentage of gross profits of one of Auden Mckenzie's products.
The deal is expected to close in Q1 of 2015.
Actavis shares rose 2% Monday, closing at $285.02.
AT&T to Acquire NII Mexico Ops for $1.875B
The Deal:
AT&T, Inc. (NYSE: T) has entered into an agreement with NII Holdings, Inc. (OTC: NIHDQ), to acquire its Nextel Mexico wireless business for $1.875 billion, less the outstanding net debt of the business at closing and pursuant to Section 363 of the U.S. Bankruptcy Code.
The deal is expected to close in mid-2015.
AT&T shares lost $0.19 Monday, closing at $33.18.
Post Holdings to Acquire MOM Brands for $1.15B
The Deal:
MOM Brands announced Monday, that it has agreed to the sale of the company to Post Holdings, Inc. (NYSE: POST) in a transaction valued at approximately $1.15 billion.
The deal is expected to close by Q3 of 2015.
Post Holdings shares gained almost 18% Monday, closing at $48.83.
MeadWestvaco, RockTenn Agree to $16B Merger
The Deal:
Rock-Tenn Company (NYSE: RKT) and MeadWestvaco Corporation (NYSE: MWV) announced Monday, an agreement to combine in a transaction with a combined equity value of $16 billion. MWV stockholders will receive 0.78 shares of NewCo for each share of MWV held. RockTenn shareholders will be entitled to elect to receive either (a) 1.00 shares of NewCo or (b) cash in an amount equal to the volume weighted average price of RockTenn common stock during a five-day period ending three trading days prior to closing for each share of RockTenn held.
The combined company will be named prior to closing, which is expect to occur in Q2 of this year.
Rock-Tenn shares gained more than 6% Monday, closing at $66.85. MeadWestvaco shares rose 14%, closing at $51.35.
Chinese Media Report Says BLX Looking to Acquire AMD
The Rumor:
Shares of AMD surged higher Monday, on a report out of China, that BLX IC Design Corp was seeking a takeover of the semiconductor company. AMD and BLX have a relationship in the Chinese market. The two companies opened the AMD/BLX Computing Client Development Center in Beijing, China in December 2013.
A spokesperson for AMD declined comment on the rumor. A spokesperson for BLX was not available for comment.
AMD shares gained more than 6% Monday, closing at $2.61.
View Comments and Join the Discussion!