Black Rabbit: Stock Buying Software That Never Makes A Mistake?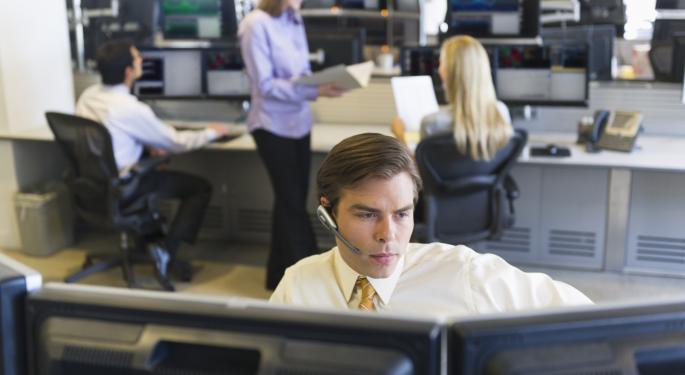 California entrepreneur and software engineer Steve Bode told Benzinga he had designed a program that automatically buys and sells stock.
Furthermore, according to Bode, the software never makes a mistake, and now he has decided to make it available to investors (for a fee).
Who Is Steve Bode?
Bode graduated from Ohio University (Athens, Ohio) in 1990 with a degree in graphic design.
In 1996, he received a Masters in Business Administration from the University of Phoenix.
He said he sees a strong connection between art and business, telling Benzinga, "Art is creating something from nothing. So is business."
Bode said he was drawn to business over art because, "Business is more dynamic."
Related Link: How This 19-Year-Old Student Balances Momentum Trading With College
The Black Rabbit Software
Bode said his software product, named Black Rabbit, is five years old. Based on a type of momentum trading, the software preselects about 100 stocks with parameters set by Bode.
Black Rabbit looks for the fastest-growing stocks and, according to Bode, "buys into them and waits for whatever profit I set up – $10, $20 or $100 – then automatically sells."
Stop loss is one of the variables Bode built in to the software.
Speed Is Key
All trading is automated with the software, capable of doing anywhere from 50 to 200 trades per day.
According to Bode, everything is done through a brokerage with an Applied Programming Integration (API) system at a cost of $2.50 per trade.
Making The Program Available
Now Bode said he planned to make Black Rabbit available to investors.
He said he planned to keep possession of the software on his server and allow investors to log in through the brokerage.
He has not yet decided how many variables he will allow individual investors to manipulate with their trades.
He said, "I won't have anything to do with their account. My fee will be a percentage, billed to the investor."
Does It Work?
Bode said it does and added, "I have documentation for all the trades I've done."
"I've tried different things," he noted. "Some things have worked pretty well. Some things work really well. There are other things where I may stop for a little while as I program."
Human Error
Although Bode said the software itself hasn't failed, he has, providing one example.
"Recently, I bought into a stock, it went up quickly, so I overrode the software and let it ride. It dropped and now I'm stuck in that stock. That's my own fault."
Helping Mankind
Despite his confidence in Black Rabbit's ability to turn a profit, Bode said his personal ambitions are much more altruistic.
"Remember the TV show, "Extreme Makeover," " he asked, "where a team would help a family that really needed their house rebuilt?"
"That gut feeling … mankind helping mankind … is what has really driven me all along," he said.
Bode's plan is simple. He wants to use a portion of profits he makes from Black Rabbit to "make a big difference in the world."
Timeline
Bode said he would like to have the Black Rabbit investing "dashboard" up and running within six to nine months.
As far as the "making a difference" part, that would depend on how quickly the money accelerates, according to Bode.
At the time of this writing, Jim Probasco had no position in any mentioned entities.
Posted-In: API Black Rabbit momentumEntrepreneurship Top Stories Exclusives Tech Interview Best of Benzinga
View Comments and Join the Discussion!