Super Bowl Marketing Campaigns Heat Up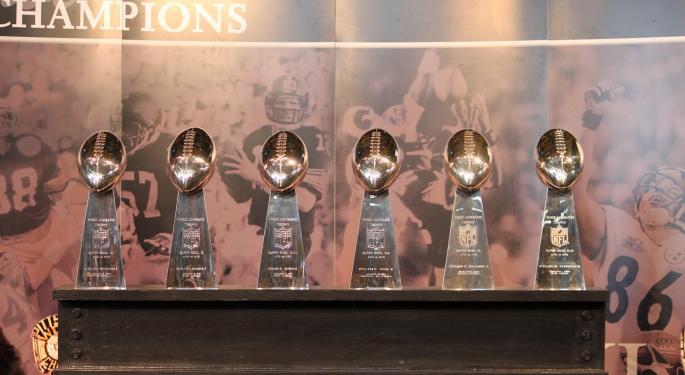 With the Super Bowl less than a month away, advertisers are gearing up for the infamous lineup of Super Bowl commercials. This year, 30 seconds during the game costs $4.5 million, a 12.5 percent price increase from last year.
Regardless of the increase, several big companies have coughed up the cash for a coveted slot in hopes that their commercial will draw public attention to their brand.
Budweiser Clomps In And Cracks Jokes
Anheuser Busch Inbev SA (ADR) (NYSE: BUD) ads have been a Super Bowl staple for years and this year the company has purchased three-and-a-half minutes worth of airtime during the game.
The ads are expected to feature Budweiser's iconic Clydesdale horses as well as the slap stick humor that its Bud Light brand has become known for. Budweiser and Bud Light will be the only beer brands advertised during the game.
Other Regulars Return, While Some Are Absent
The Coca-Cola Co (NYSE: KO), McDonald's Corporation (NYSE: MCD) and PepsiCo, Inc (NYSE: PEP) are also returning this year, while Volkswagen and H&M both decided against purchasing a game-time ad.
Mars Inc.'s M&M ads will not return this year, but the company announced that its Skittles brand would celebrate its first Super Bowl.
Related Link: NFL Playoff Ticket Prices: Here Are The Most Expensive Scenarios Of 2015
PR Plays A Role
This week, PR campaigns are expected to heat up as brands vie for attention during the game. Consumer input is expected to be a big trend again this year, with several companies asking for public input. Carnival Corporation (NYSE: CCL) is allowing the public to choose its Super Bowl ad via a voting platform on its website, and PepsiCo's Doritos brand wants Super Bowl fans to vote on a series of consumer-made commercials to fill its slot.
Image credit: daveynin, Flickr
View Comments and Join the Discussion!
Posted-In: Doritos H&M Company M&Ms Mars Inc. skittlesTop Stories Markets General Best of Benzinga