Benzinga's M&A Chatter for Thursday December 18, 2014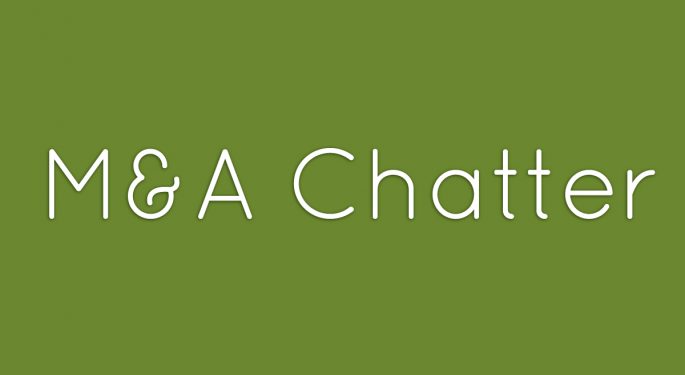 The following are the M&A deals, rumors and chatter circulating on Wall Street for Thursday December 18, 2014
Pantry to be Acquired by Couche-Tard for $36.75/Share
The Deal:
Alimentation Couche-Tard Inc. (TSX:ATD.A) (TSX:ATD.B) and The Pantry, Inc. (PTRY) announced Thursday, a definitive merger agreement under which Couche-Tard will acquire The Pantry in an all-cash transaction valued at US $36.75 per share, with a total enterprise value of approximately US $1.7 billion including debt assumed. The terms of the agreement were unanimously approved by the Boards of Directors of both companies.
The transaction is expected to close in the first half of 2015, subject to the approval of The Pantry shareholders and customary regulatory approvals. The transaction includes customary breakup fees. This all-cash transaction is expected to be financed by Couche-Tard's available cash, existing credit facilities and a new term loan.
The Pantry shares closed Thursday at $36.48, a gain of almost 3%.
Honeywell Acquires Datamax-O'Neil For $185 Million
The Deal:
Dover (NYSE: DOV) announced Tuesday, that it has agreed to sell its Datamax O`Neil unit to Honeywell (NYS: HON) for $185 million. D-O provides stationary and portable label and receipt printing solutions.
The deal is expected to close in Q1 of 2015.
Honeywell shares closed Thursday at $100.63, a gain of 3%.
Paulson Takes Stake in Salix, Investors Push for Sale
The Rumor:
Shares of Salix Pharmaceuticals, Inc. (NASDAQ: SLXP) rose Thursday, on a report from Reuters, that Paulson & Co has taken an undisclosed stake, according to sources. Certain shareholders are pushing for a sale of the Raleigh, NC drug company. It is not clear of Paulson is one of those investors, according to the report.
Spokespersons for Paulson and Salix declined comment.
Salix Pharmaceuticals shares gained 3.5% Thursday, to close at $118.45.
American Apparel gets takeover offer valuing company at $1.30 to $1.40 a share
The Rumor:
Shares of American Apparel (NYSE: APP) spike higher ahead of the close Thursday, on a report from NY Post, that founder Dov Charney is partnering with a private equity firm to regain control of the company. Sources say a potential bid values the company at $1.30 to $1.40 per share.
American Apparel has not announced the bids publicly.
American Apparel shares gained 45% Thursday, to close at $1.00.
View Comments and Join the Discussion!