GasBuddy: 1 In 4 Holiday Travelers Affected By Lower Gas Prices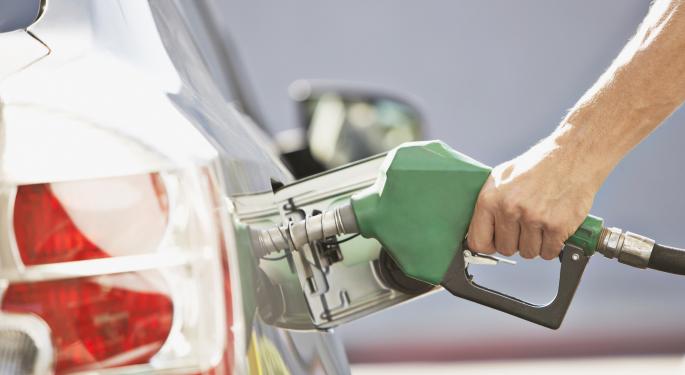 Americans are currently saving roughly $250 million per day on gasoline compared to a year ago, according to GasBuddy.
Based on a recent GasBuddy survey, those saving have made a difference in travel plans for about 25 percent of respondents.
Patrick DeHaan, senior petroleum analyst with GasBuddy.com told Benzinga that of those who said lower prices had affected travel plans, 29 percent said they would travel further this year.
The largest number, 35 percent, said they would spend more on gifts, while 11 percent indicated they would spend their savings on food.
Roughly 8 percent planned to upgrade their accommodations while traveling.
Related Link: Gas Prices Continue To Fall, Great Lakes See Biggest Benefit
Paying Off Debt Topped The List
Of 100,000 GasBuddy.com members who responded to the survey, most (45 percent) said they would use their gas savings to pay bills, according to DeHaan.
Of the respondents, 38 percent planned to save their gas price bonus.
Just 14 percent said they would use the extra money to buy presents for family members, while 2 percent planned to spend their savings on themselves and 1 percent said they would use the extra money to buy alcoholic beverages and/or tobacco.
Traffic A Bummer
Included among other survey findings pointed out by DeHaan: Almost half (44 percent) of respondents find holiday travel stressful.
The greatest single cause of that stress is traffic, according to 37 percent of survey respondents.
Inclement weather (27 percent) and the cost of travel (26 percent) were the next largest stressors, according to DeHaan.
Leave Early
DeHaan had a suggestion for those who see holiday traffic as the most stressful part of traveling.
"With some extra cash in our pockets," he said, "that may help many of us get an early start and avoid the traffic."
The departure date to beat is Saturday, December 20, since 36 percent of survey respondents said they planned to begin travel on that date or the day after (Sunday, December 21).
Other Findings
According to GasBuddy survey respondents, the cities offering the greatest challenge when it comes to holiday travel were Los Angeles, New York, Atlanta, Seattle and Washington D.C.
The easiest cities to escape from were Cleveland, Philadelphia, Phoenix, Denver and San Francisco.
The full GasBuddy.com national survey can be found here.
At the time of this writing, Jim Probasco had no position in any mentioned securities.
Posted-In: Atlanta Cleveland Denver Gasbuddy.comTravel Economics Exclusives General Best of Benzinga
View Comments and Join the Discussion!