Benzinga's M&A Chatter for Monday December 15, 2014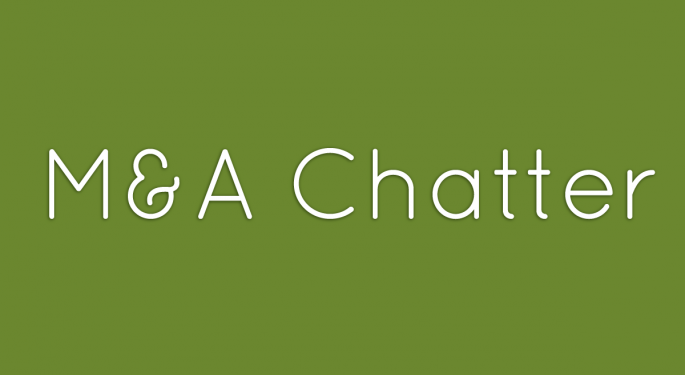 The following are the M&A deals, rumors and chatter circulating on Wall Street for Monday December 15, 2014
Hearing Renewed Chatter or Potential Publix Bid for Whole Foods
The Rumor:
Shares of Whole Foods Market, Inc. (NYSE: WFM) rose Monday, on renewed chatter of a possible bid from Publix. The rumor is that Publix will offer more than $60 per share for Whole Foods.
A spokesperson for Publix said it was just a rumor. Whole Foods did not respond to a request for a comment.
Whole Foods shares closed Monday at $48.54, a gain of $0.22.
Riverbed to be Acquired by Thoma Bravo for $21/Share in Cash
The Deal:
Riverbed Technology (NASDAQ: RVBD) announced Monday, that it has entered an agreement to be acquired by PE firm Thoma Bravo, LLC and Teachers' Private Capital unit of Ontario Teachers' Pension Plan, for $21.00 per share in cash, or approximately $3.6 billion. The deal was unanimously approved by Riverbed's Board of Directors following a strategic review process.
Riverbed shares closed Monday at $20.31, a gain of 8%.
Talisman Confirms Discussions with Repsol
The Talks:
Talisman Energy Inc. (NYSE: TLM) confirmed Monday, that it is engaged in discussions with Repsol, S.A. (OTC: REPYY) regarding a potential corporate transaction. Talisman said it has also been approached by other parties regarding, including, according to Bloomberg, Canada Pension.
Spanish publication Expansion reported Monday that Repsol's Board was meeting to approve an offer for Talisman. Reports says the offer could be between C$6.00 and C$8.00 per share.
After-hours Reuters reported that Repsol's Board had approved an offer for Talisman and Talisman's Board was reviewing the offer.
Talisman shares gained 19% Monday, to close at $5.12, and traded at $5.42 after-hours.
View Comments and Join the Discussion!