Benzinga's M&A Chatter for Wednesday December 3, 2014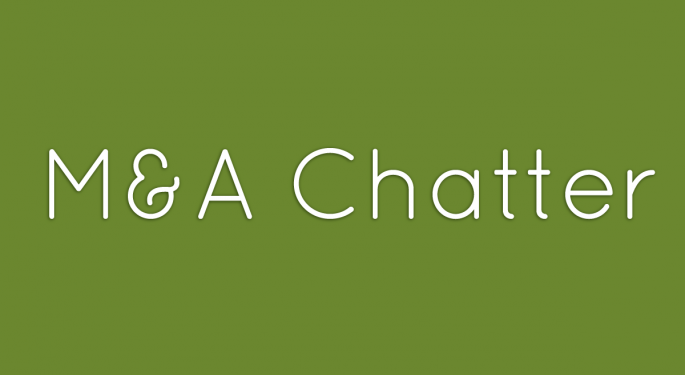 The following are the M&A deals, rumors and chatter circulating on Wall Street for Wednesday December 3, 2014:
UTI Worldwide in Advanced Talks for Sale to DSV
The Rumor:
Shares of UTi Worldwide Inc. (NASDAQ: UTIW) spiked sharply higher Wednesday, following a report by Bloomberg, that the non-asset-based supply chain management company was in advanced talks to be acquired by Denmark's DSV A/S (OTC: DSDVY). Sources say UTi has been in sale talks since the middle of this year and an agreement could be reached by end of December.
AUTi spokesperson declined Comment on the rumored. A DSV spokesperson was not immediately available for comment.
UTi Worldwide closed Wednesday at $13.88, a gain of 20%.
Hearing Unconfirmed Report of Lotte/Samsung Stake in Target
The Rumor:
Shares of Target Corp. (NYSE: TGT) spiked higher Wednesday, on a report out of South Korea that Lotte Group and Samsung (OTC: SSNLF) had taken a 10% stake in the U.S, retailer and formed a joint venture to enable Target to expand in Asia.
A spokesperson for Target denied comment on the rumor. A spokesperson for Lotte Group was not immediately available for comment.
Target shares closed Wednesday at $73.33, a gain of $0.26.
NextEra Energy and Hawaiian Electric Industries to Combine in $4.3B Deal
The Deal:
NextEra Energy, Inc. (NYSE: NEE) and Hawaiian Electric Industries, Inc. (NYSE: HE) announced Wednesday that the companies have agreed to combine in a transaction valued at approximately $4.3 billion. The deal includes the assumption of $1.7 billion in HEI debt, while excluding HEI's banking subsidiary. HEI announced separately, a plan to spin off ASB Hawaii, the parent company of American Savings Bank.
HEI shareholders will receive an estimated total value of approximately $33.50 per share, consisting of 0.2413 shares of NextEra Energy common stock for each HEI share they own, valued at $25.00 per HEI share, based on NextEra Energy's volume-weighted average stock price for the 20 trading days ended Dec. 2, 2014; a one-time special cash dividend, to be paid by HEI, of $0.50 per HEI share for shareholders of record as of the date immediately prior to the closing of the transaction; and Shares of ASB Hawaii, through the spinoff transaction, with a current estimated value of $8.00 per share based on consensus analyst estimates.
The transaction is expected to close in within approximately 12 months.
Hawaiian Electric closed Wednesday, to close at $16.92.
View Comments and Join the Discussion!