Why Drivers Should Give Thanks For Low Gas Prices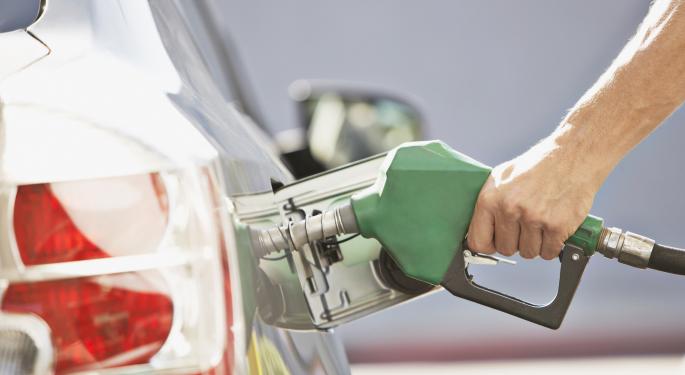 Driving anywhere this Thanksgiving?
If so, GasBuddy recently said the price of unleaded gasoline to get there would average about 44 cents per gallon less than it did last year.
Related: GasBuddy: Lowest Gas Prices Of 2014 Unfolding Right Now
More Turkey
For a 16-gallon fill-up, this year's gas prices represent a savings of a little more than seven dollars over 2013.
With the average Thanksgiving turkey running $1.35 per pound this year according to the American Farm Bureau Federation, that savings represents an extra five pounds of turkey meat for the dinner table without breaking last year's budget.
National Per Gallon One-Year Price Drop
The chart below shows the range of the per gallon drop in gasoline prices for the continental United States now versus last year.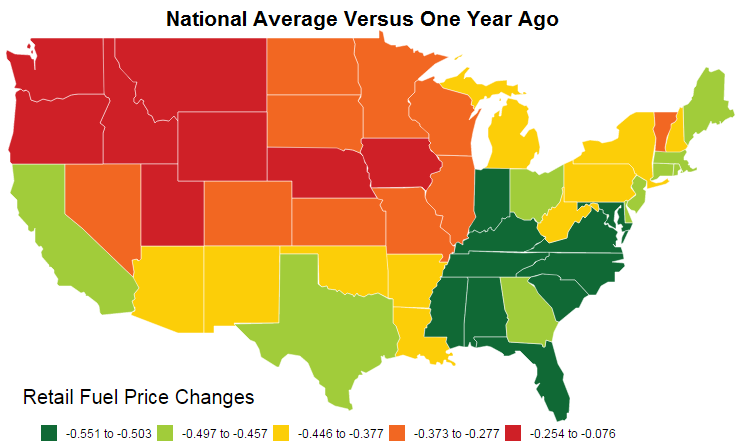 In the middle of the pack, gasoline prices in states like Michigan, Pennsylvania and New Mexico were running nearly $0.38 to $0.45 per gallon cheaper than a year ago.
The Myth Of Holiday Gas Hikes
GasBuddy senior petroleum analyst Patrick DeHaan said, "While many of us are convinced that gas prices automatically go up in advance of every travel holiday, our price tracking has proven that to be a widely-held misconception."
Historically, according to DeHaan, there have been times, particularly during the Thanksgiving and Christmas holiday periods, when gas prices were flat or even declined.
Related: Dow, S&P 500 Close At Record Highs To Kick-Off Thanksgiving Week
Track And Save
Even with national averages running significantly lower than last year, GasBuddy warned that prices could fluctuate dramatically from area to area.
This could be especially true when crossing state borders where gasoline taxes often vary widely.
At the time of this writing, Jim Probasco had no position in any mentioned securities.
Posted-In: Android Blackberry Christmas GasBuddy iPhoneNews Commodities Markets Best of Benzinga
View Comments and Join the Discussion!