What Are Publicly Traded Athletes? Fantex CEO Buck French Explains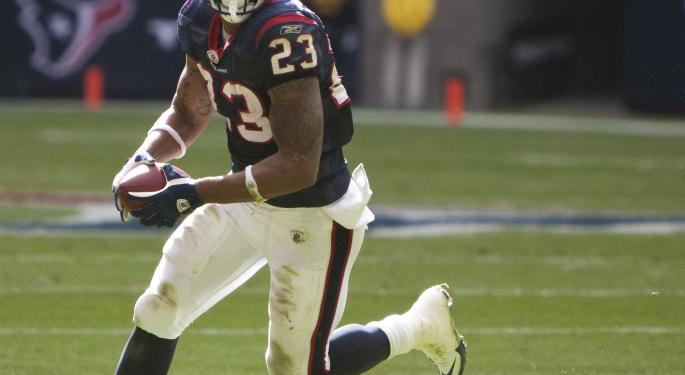 Fantex Brokerage Services (FBS) is the world's first registered trading platform that lets traders invest in tracking stock linked to the brand value of athletes such as Chicago Bears wide receiver, Alshon Jeffery.
Fantex is not some strange variant of fantasy sports. It's a real trading platform and involves investing real money –- with real potential return (or loss).
Not Fantasy
Fantex, Inc., the brand building company, along with FBS fall under the umbrella of parent company, Fantex Holdings.
Fantex Holdings co-founder and CEO, Buck French told Benzinga the platform, which opened for business October 17, 2013, purchases a minority interest in an athlete brand, works to increase the athlete's brand value and develops a tracking stock linked to the economic performance of that brand.
"When you think about it from an investment perspective," French said, "we're capturing a cash flow stream that's really never been captured and offered to the general public before."
Related Link: Would Sponsors Ever Leave The NFL?
Alshon Jeffery
For example, Fantex recently opened registration for an IPO called Fantex Alshon Jeffery.
Following announcement and an SEC filing, investors can now reserve shares in this IPO. Once goals have been met, reservations would close; investors would fund their accounts and receive their shares. At that point trading on the Fantex exchange would begin.
Fanvestor
According to French, one of two types of investors typically attracted to Fantex is the "Fanvestor."
French described a Fanvestor as an individual who likely never had a brokerage account but did possess an affinity toward a Fantex brand athlete.
For example, a Chicago Bears fan would likely be interested in the Alshon Jeffery IPO. A San Francisco 49ers fan, on the other hand, might want to buy shares of Fantex Vernon Davis. Davis is a nine-year NFL veteran tight end who plays for that team.
Regular Investor
A more common Fantex trader, French said, would be a regular investor with some experience in investing, a brokerage account and who already traded regular stocks on the major exchanges.
Like the Fanvestor, however, the experienced investor attracted to Fantex would also typically be a sports fan.
Athlete Brands
Fantex contracts have been cut with five athletes including the previously mentioned Davis and Jeffery.
In addition, Fantex cut a deal with Houston Texans running back Arian Foster. Foster's IPO, originally scheduled for October 2013, was postponed when the player had to undergo season-ending back surgery.
According to French, Fantex planned to continue with the offering once Foster recovered and was fully able to perform as a player.
Two additional offerings, Fantex EJ Manuel (a quarterback with the Buffalo Bills) and Fantex Mohamed Sanu (wide receiver with the Cincinnati Bengals), are trading on the Fantex exchange.
Investing
Investing in Fantex stock linked to a specific athlete brand would involve opening and funding an account.
There are no minimum deposits and the minimum investment in an initial public offering is one share.
IPOs open at $10 per share. Regular stocks sell at fair market value, currently ranging from $4.80 per share for Fantex EJ Manuel to $13.70 per share for Fantex Mohamed Sanu.
Related Link: Did You Know There's A College Football Playoff Ticket 'Futures' Market?
Risks
As with any investment, risks abound.
The relatively new company has incurred significant losses since inception. Upfront payments to athletes create a risk the company won't receive the return it expects.
In addition, since investment in any single tracking stock represents ownership in the company as a whole, that investment exposes the investor to risks associated with other tracking stocks issued by Fantex.
At the time of this writing, Jim Probasco had no position in any mentioned securities.
Image Credit: AJ Guel, Flickr
Posted-In: Alshon Jeffrey Arian Foster Buck French Fantex HoldingsMovers & Shakers Top Stories Interview General Best of Benzinga
View Comments and Join the Discussion!