Benzinga's M&A Chatter for Thursday November 13, 2014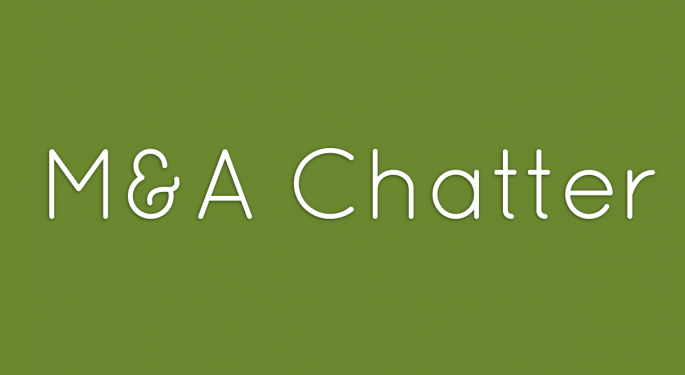 The following are the M&A deals, rumors and chatter circulating on Wall Street for Thursday November 13, 2014:
Halliburton in Talks to Buy Baker Hughes
The Talks:
Shares of Baker Hughes Incorporated (NYSE: BHI) spiked higher Thursday, on a report from WSJ that they were in talks to be acquired by rival oilfield-services provider Halliburton Company (NYSE: HAL), according to sources. The publication reported talks are moving rapidly and a deal could reached soon.
Shares were halted at $61.76, after hitting a low of $48.65.
Baker Hughes confirmed late Thursday that it was in preliminary talks with Halliburton regarding a potential merger.
Baker Hughes shares gained 15% Thursday, to close at $58.70. Halliburton shares gained 1% to close at $53.79.
Mobile Mini to Acquire Evergreen Tank Solutions for $405 million
The Deal:
Mobile Mini, Inc. (Nasdaq: MINI) announced Thursday, that it has agreed to acquire Evergreen Tank Solutions for $405 million in cash. The deal is expected to close by the end of 2014.
Mobile Mini shares closed at $44.07 Thursday, a loss of 1%.
Hasbro Reportedly in Talks to Acquire DreamWorks Animation
The Rumor:
Hasbro Inc. (NASDAQ: HAS) and DreamWorks Animation SKG Inc. (NASDAQ: DWA) are in merger talks according to Deadline Hollywood. DWA CEO Jeffrey Katzenberg is looking for $35 per share from Hasbro, according to sources.
The combined company would reportedly be called DreamWorks-Hasbro. Both DreamWorks and Hasbro declined comment on the report.
DreamWorks Animation closed Thursday at $25.52, a gain of 14%. Hasbro shares lost 4% to close at $54.98.
View Comments and Join the Discussion!