Geopolitical Issues Weigh On Eurozone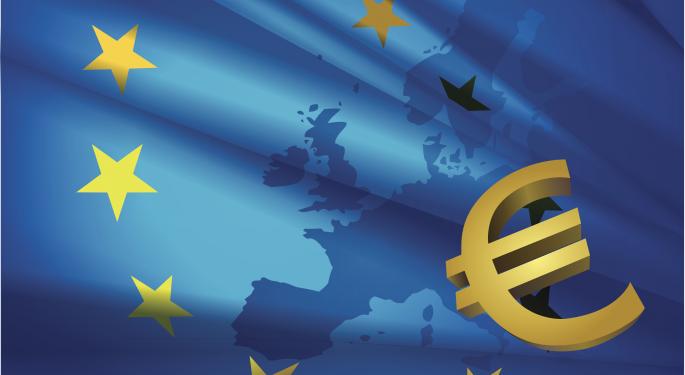 The euro was steady at $1.248 at 7:15 GMT on Wednesday morning as the region struggled with political uncertainty and the effects of the worsening conflict in Ukraine.
On top of high unemployment and falling inflation, eurozone policy makers are seeing increased support for radical, anti-euro parties in some of the region's largest member nations. In Spain, one such party has been vying for Catalonia's independence for years as many Catalan citizens believe that, as one of the richest parts of the country, their tax revenue has been mismanaged.
Related Link: Brent Prices Fall Lower, OPEC Considers Cut
Over the weekend, the region held an illegal vote in which nearly half of its registered voters expressed their desire for independence. Although the vote was not internationally recognized, the Wall Street Journal reported that Catalan leader Artur Mas said it was a useful step in persuading Prime Minister Mariano Rajoy to hold a referendum much like the one held in Scotland earlier this year.
Many are worried that Catalonia will continue to push for independence, creating a political and economic issues for Spain as a whole. The region makes up 25 percent of Spanish exports, and if its calls for more independence are continuously ignored, the conflict may grow. Most analysts expect that the Spanish government will compromise by giving Catalonia more fiscal control, but not full independence.
Meanwhile, the conflict in Ukraine looked likely to escalate as Ukrainian nationalist forces tried to keep rebels from overtaking the Donetsk airport. Despite accusations that Russia is responsible for the influx of rebel arms and fighters in Ukraine, the EU is refraining from increasing its sanctions against Moscow for the moment. Instead, EU officials are focused on Ukraine as the nation's economy is struggling to stay afloat. Kiev is burdened by international debts, including some outstanding gas payments to Russia, which could keep Moscow from sending energy supplies to the nation this winter.
View Comments and Join the Discussion!
Posted-In: News Eurozone Commodities Forex Global Federal Reserve Markets