Getting Politically Invested With Motif Investing CEO Hardeep Walia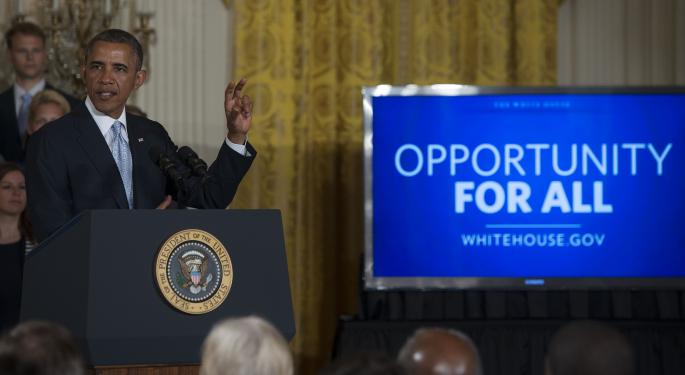 Motif Investing CEO Hardeep Walia in a phone conversation told Benzinga he first became convinced of the inextricable link between politics and investing while listening to candidates Barack Obama and Mitt Romney speak at the beginning of the 2012 presidential campaign.
"As they started talking about the issues that were important to them I kept going 'Wow there's a motif for that!'"
Related Link: Fighting Ebola: Motif Investing For A Cause
'Motif' Political Investing
Online broker Motif Investing offers thematically weighted baskets of stocks traded in a single transaction. Walia referred to the company's product as being like "customizable, no-fee ETFs."
A politically-themed motif would be a basket of stocks built around an issue on which Democrats and Republicans have taken a stand.
Typically, one motif on that issue would deal with stocks that support the Republican point of view and another would include stocks that favor the Democratic point of view.
Motivation
According to Walia, investors are motivated to consider politics as part of their investment strategy for two reasons.
"One," he said, "is an expectation of a massive change." He pointed to the Affordable Care Act (Obamacare) and Repeal Obamacare motifs as prime examples of that motivation.
The second motivation, Walia suggested, has more to do with principles.
"There is this notion of what I call a values investor and this next generation especially is very sensitive to investing in ways that are consistent with their values," he said.
Obamacare Motif
The Obamacare motif, designed to provide exposure to companies that would gain as the ACA became more successful, would largely be considered to be supported by Democrats.
To date, the Obamacare motif has shown a one-month return of 7.3 percent and a one-year annual return of 28.9 percent.
Repeal Obamacare Motif
On the Republican side, the Repeal Obamacare motif, focused on companies that stand to gain if all or part of Obamacare was repealed, has seen a one-month return of 7.9 percent and an annual return of 5.1 percent.
Noting that full repeal of Obamacare would not be necessary for the Repeal Obamacare motif to show gains, Walia pointed to the often-discussed excise tax on medical devices saying, "Our Repeal Obamacare motif has exposure to those devices that will benefit."
Related: Mixing Politics And Trading Is A No-No, This Analyst Says
Other Politically Themed Motifs
"You've then got a whole set of oil, Shale Oil, Shale Gas motifs that tend to skew Republican," Walia said, providing examples of motifs built on companies potentially set to benefit from a Republican controlled Congress.
Other Republican leaning motifs mentioned include Modern Warfare, Frack Attack and even one called Republican Donors.
"When it comes to the environment," Walia said, "the president's even talked about taking executive action on managing carbon."
In that vein, according to Walia, Motif's Cleantech Everywhere motif clearly favored the Democratic environmental point of view.
Others on that side of the aisle included Democratic Donors, Fossil Free and Cyber Security for those who tend to believe cyber threats trump more traditional enemy states.
At the time of this writing, Jim Probasco had no position in any mentioned securities.
Posted-In: Affordable Care Act Barack Obama Hardeep Walia Mitt RomneyPolitics Top Stories Interview General Best of Benzinga
View Comments and Join the Discussion!