4 Auto Stories You Might Have Missed This Week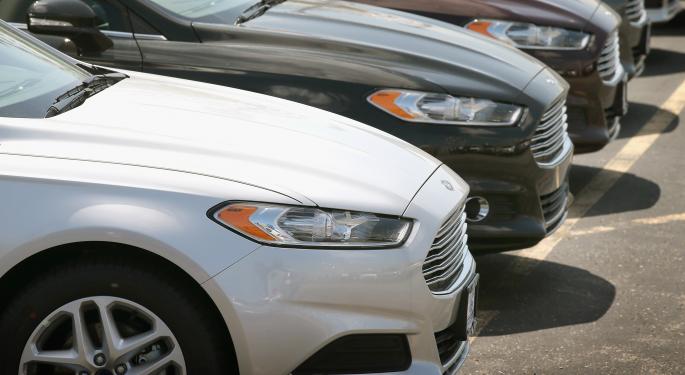 As the week comes to end, Benzinga takes a look back at some of the top trending auto news stories.
Hyundai And KIA Settle With U.S. Regulators
South Korean-based Hyundai and Kia were fined $100 million by U.S. regulators for violating the Clean Air Act. The automakers were accused of over-exaggerating the fuel efficiency of 1.2 million vehicles. Michelle Krebs, director of automotive relations for AutoTrader Group, shared her views with Benzinga.
"What I think is clear is [that] Congress is putting pressure on federal agencies to do their jobs in terms of protecting consumers, from misinformation regarding fuel economy to fixing cars that have deadly flaws," Krebs said. "The agencies are clamping down on automakers. I'd expect to see more of that in the future."
Related Link: The Dark Side Of A Generation's Frugality
Twitter Invaluable Towards Cars Sales; Experts Disagree
MarketShare, a marketing analytics company, studied the impact Twitter Inc (NYSE: TWTR) had on auto sales for more than 20 volume midsize and luxury compact cars. The analysts Benzinga spoke with expressed mixed views on the importance of Twitter in generating car sales.
Krebs said that based on surveys conducted by AutoTrader, car buyers (including millennials) do not use social media to buy cars. Social media is a way for automakers and dealers to build relationships and not serve as a "selling tool" with owners and potential buyer.
Karl Brauer, senior analyst at Kelley Blue Book may agree with MarketShare's findings.
"Given the size of Twitter's audience, and the level of engagement it achieves with that audience, this number is quite possible," Brauer said. "Social media is a primary influencer for Generation X and Millennials, which allows Twitter and other social outlets to have an impact on car sales."
Volkswagen, Mercedes Shun Google; General Motors Embraces Android
Volkswagen AG (OTC: VLKAY) and Mercedes-Benz are leading a charge to convince automakers to establish separate platforms for data on vehicle and not to embrace Google Inc's (NASDAQ: GOOG) (NASDAQ: GOOGL) systems. The German manufacturers argued that they will be handing over sensitive data to Google.
"We seek connection to Google's data systems but we still want to be the masters of our own cars," Volkswagen CEO Martin Winterkorn said.
Meanwhile, General Motors Company (NYSE: GM) is gearing up to roll out Android-enabled cars as soon as 2016, according to Harman International, the firm General Motors tapped to create a next-generation "infotainment system."
Bill Visnic, senior analyst at Edmunds, told Benzinga it "makes perfect sense" for automakers to turn to established infotainment developers. By doing so, manufacturers like General Motors are able to utilize Google's expertise and experience. At the same time it should help facilitate cross-platform integration for consumer devices and data.
General Motors Could Face $2-Billion Charge If Shield Crumbles
General Motors could face a $2-billion charge if it were to lose a lawsuit over the company's responsibility for vehicles it built and sold before its July 2009 bankruptcy. General Motors argues that a bankruptcy shields the "New General Motors" from the pre-2009 "Old General Motors." Nevertheless, General Motors has already set aside $600 million to compensate people who were injured or lost someone affected by its cars.
Related Link: Exclusive: GM Class Action Lawyer Discusses Recall Suit
"If GM's executives truly weren't aware of the ignition switch problem during bankruptcy then the shield it provides will legally hold up," Brauer told Benzinga. "These ignition switches have caused injuries and fatalities, but GM's executive team has been very proactive and cooperative since discovering issue.
"Let's not forget GM was in a dire financial situation not that long ago," Brauer added. "The company has largely recovered and is making money, but we shouldn't assume GM sits on a bottomless pit of money. A reasonable compensation package for impacted car owners is what GM should offer, and they have."
View Comments and Join the Discussion!
Posted-In: Android AutoTrader Bill Visnic Clean Air Act comments Edmunds HyundaiTop Stories Best of Benzinga