Will Martin Aircraft IPO Lead To Skies Filled With Jetpacks?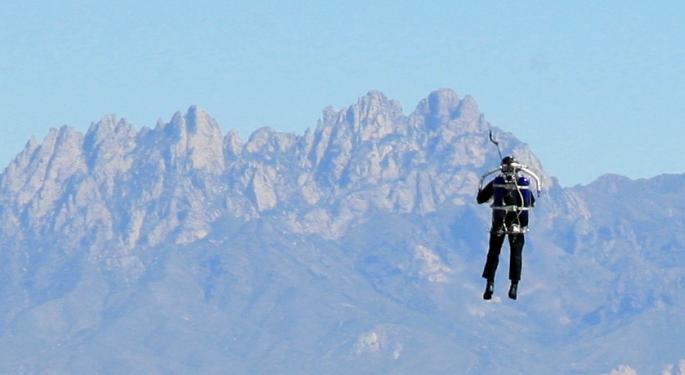 One of the more interesting companies set to launch an initial public offering before the end of 2014 has been New Zealand's Martin Aircraft Co. Ltd.
Martin said it wanted to raise up to $22 million to fund further development of its stable of jetpacks.
According to The Wall Street Journal, the company said it plans to sell between 20 million and 50 million ordinary shares priced at $0.43 ($0.50 Australian) through November ahead of a December 8 IPO on the Australian exchange.
The company's market value is expected to end up somewhere between $83.9 million and $96.8 million.
Related Link: Welcome The Rise Of Helicopters
In its online prospectus, Martin said investment in the company should be considered "speculative."
Bernie Burns, co-founder and president of B2 Aviation told Benzinga, "They [Martin] will face the same regulatory road blocks that drones have only begun to encounter."
Perhaps Martin will find modest success, as Segway's did in niche, personal use markets.
3 Products
Martin plans to develop and market three aircraft based on an idea conjured up by Glenn Martin in a garage more than 30 years ago.
Based on the company's prospectus, Martin jetpacks would be designed to compete with small helicopter sales.
Martin said its jetpacks are cheaper and able to fit into tighter spaces than helicopters.
New Zealand has allowed Martin to test and fly its vehicles under the designation of "microlight" aircraft, requiring a license and special training.
The company hopes the United States would designate its jetpacks as "ultralights," making a pilot's license unnecessary.
First Responder Jetpacks
Martin plans to start selling its First Responder Jetpacks, designed for use by emergency services, search and rescue, police and border patrol among other uses in 2016.
The initial product would sell for about $200,000 each. The company said, in comparison, a typical small helicopter would cost around $270,000.
Martin Skyhook
A second product, known as the Martin Skyhook, would be an unmanned version of the company's jetpack designed to move bulk goods across water or uneven terrain.
Pricing for that model, also set to go on the market in 2016, has not been announced. According to the company, the price is expected to be similar to that of the First Responder Jetpack.
Consumer Model
Finally, in early 2017, Martin said it plans to start selling a recreational model jetpack.
The company said it wanted to gather data and input from users of its First Responder Jetpack prior to releasing a personal model.
Martin's jetpacks run on gasoline and can stay aloft up to 30 minutes via thrust from twin-ducted fans.
At the time of this writing, Jim Probasco had no position in any mentioned securities.
Image credit: Steve Jurvetson, Flickr.
Posted-In: Bernie Burns drones IPO jetpacks Martin AircraftIPOs Global Trading Ideas Best of Benzinga
View Comments and Join the Discussion!