Will Disney Investors Be Treated To Another Magical Earnings Report?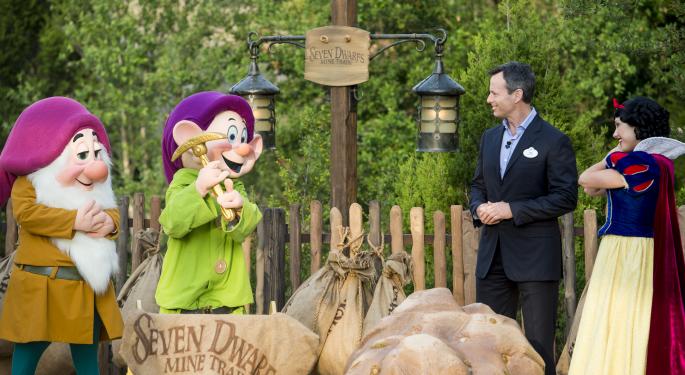 Walt Disney Co (NYSE: DIS) will report its fourth quarter results on Thursday after market close. Analysts are expecting the company to book $0.88 per share on $12.37 billion in revenue.
Disney reported its third quarter results on August 5. At that time, the company earned a record high $1.28 per share, topping analyst expectations by $0.11 per share. In fact, Disney generated a greater earnings per share in the first three quarters of the year than it has in any previous full fiscal year. Revenue rose 7.6 percent from a year ago to $12.46 billion, besting analyst expectations by $290 million.
The stock is up 4.5 percent over the last three months; Shares were recently trading at $90.46 on Wednesday.
Quarterly Highlights
Amazon.com, Inc. (NASDAQ: AMZN) halted some pre-orders of Disney movies over an alleged contract dispute. Amazon's move appeared to be of little concern to shareholders, given the plethora of options available for consumers to purchase a DVD. Wal-Mart Stores, Inc. jumped in and offered "Captain America: The Winter Soldier" for $14.96 on pre-order, while Amazon eventually resumed pre-orders in late August.
Related Link: Why Disney's Apple-Google Deal Isn't A Big Deal
The Wall Street Journal reported that the dispute between Disney and Amazon stems from differences regarding promotion and product placement within Amazon's website, as well as other financial issues.
All-Time Highs
Shares of Disney traded above the $90 level for the first time ever in mid-August as investors continued to see a strong pipeline of new products being released for many years to come. For example, Disney premiered a one-hour "Star Wars" movie on its Disney XD app and WatchDisneyXD.com on September 29 to build up hype for the new "Star Wars" films hitting the big screen in December 2015. Disney also integrated" Star Wars" within its theme parks and plans to sell toys at retail outlets.
Disney filed for three separate patents related to the use of drones in air shows. The company didn't elaborate how it intends to use drones, and management may or may not discuss the topic during its post-earnings conference call.
Disney acquired indirectly a 10-percent stake in Vice Media through its 50-percent stake in A&E Networks.
New Opportunities
Disney's Chief Financial Officer Jay Rasulo spoke at a Goldman Sachs conference on September 10. The executive hinted that the company continues to explore "new media" opportunities including Maker Studios, which could end up being a creator of content similar to Marvel and LucasFilm. Disney will also remain active in streaming content and won't ignore OTT partnerships.
Rasulo also confirmed the company is on pace for $6 billion to $8 billion in buybacks for fiscal 2015.
Disney secured an agreement with TNT involving broadcast rights for the next five Marvel movies; Disney also secured a new merchandising partnership with Hasbro to sell Disney-related products, including those tied with "Frozen." In addition, J.C. Penney revealed during its analyst day it will expand its Disney shops within J.C. Penney stores.
Related Link: The NBA's $24-Billion Contract Just The Latest TV Mega Deal
Cause For Concern?
Analysts at Cowen Research suggested that TV viewership continues to be sluggish in the quarter, fueling concern that advertisers may shift marketing dollars to digital channels and away from traditional TV channels that include Disney's ABC and ESPN. Concerns were further expanded on in a report by RBC Capital Markets, stating that ABC.com (along with NBC.com) have seen declines in viewership at the expense of Netflix.
Disney extended Bob Iger's role as chief executive officer through 2018. The executive previously planned to retire in 2016.
The National Basketball Association announced a long-term media rights contracts with Disney and Time Warner granting the two companies the rights to broadcast NBA games through the 2024-2025 season.
Finally, Disney announced a plethora of movie releases through the end of the decade, including "The Avengers 3," which will be split into two movies in 2018 and 2019.
View Comments and Join the Discussion!
Posted-In: Amazon Bob Iger Captain America Frozen hasbroPreviews Top Stories Trading Ideas Best of Benzinga