Deloitte: Holiday Sales Will Rise As Much As 4.5%, Shopping Malls Still Relevant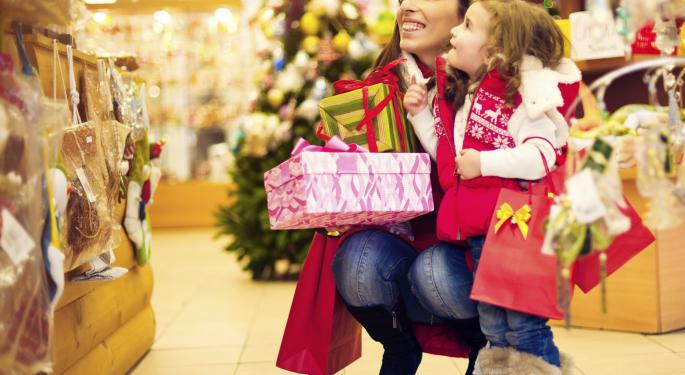 Deloitte's annual holiday survey is in and paints a positive picture of the U.S. consumer.
On October 28, Deloitte released its 29th annual holiday shopping report. The analysts concluded that sales will increase 4.0 percent to 4.5 percent this year, providing retailers with a much-needed boost.
"This potential sales increase could be the boon that retailers have been waiting for, or it could turn into a missed opportunity," the report stated. "Consumers continue to change their shopping habits as well as their expectations of retailers. Shifting spending plans, shopping processes, and expectations are largely the result of improving perceptions of the economy, an onslaught of digital technology influencing consumers, more choices from a growing pool of online competitors, and fears of security breaches."
Related Link: Robots Are Coming To Retail
Below are some key highlights from the study.
Sixty-nine percent of consumers surveyed will spend the same amount this holiday season as they did a year ago. Fifteen percent of those surveyed plan to spend more than they did a year ago, a considerable increase from the 2009 lows where only 8 percent of consumers planned to spend more.
Forty-two percent of consumers surveyed will follow a strict budget this year, implying "many consumers are shopping without budgetary shackles."
Clothing and gift cards will prove to be the most gifted items. However, 43 percent of consumers surveyed indicated they plan to give gift cards, down from 2007 highs of 69 percent.
Fifty-two percent of consumers surveyed plan on shopping within brick and mortar stores, as opposed to 40 percent of those surveyed who indicated the Internet is their go-to destination for holiday shopping. The survey claimed that the brick-and-mortar store remains "vital" to the holiday shopping experience. However, 49 percent of those surveyed will conduct online research before making an in-store purchase.
Sixty-eight percent of consumers surveyed plan to "shop local" for one-of-a-kind gifts. Thirty-five percent of their holiday budget will be spent at local retail stores for special customized and unique gifts.
Posted-In: Christmas deloitte holiday shopping retailTopics Economics General Best of Benzinga
View Comments and Join the Discussion!