Apple's Tim Cook And 5 Other Notable LGBT CEOs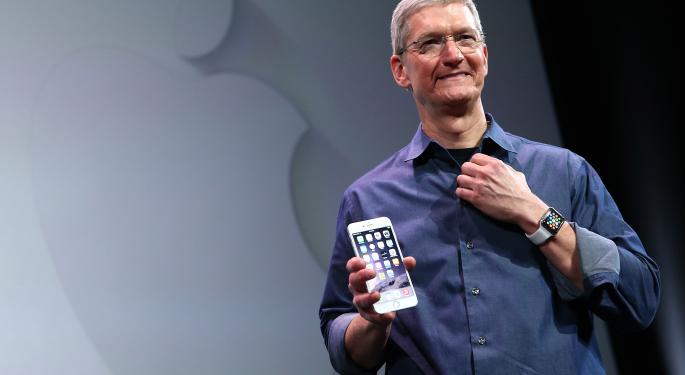 In light of Apple Inc. (NASDAQ: AAPL) CEO Tim Cook's "proud to be gay" declaration Thursday, a look at other LGBT (lesbian, gay, bisexual and transgender) CEOs might be in order.
Cook said that being gay has provided him with deeper understanding of what it is like to be a member of a minority group. He also said his orientation has made him more empathetic while at the same time forcing him to develop the "skin of a rhinoceros."
Not Much Has Changed
Cook's high-profile "coming out" aside, when it comes to sexual orientation, corporate culture hasn't changed a great deal since John Browne said he was forced to step down as CEO of BP p.l.c. (NYSE: BP) in 2007 after being outed by a former boyfriend.
Browne was forced out, not for being gay, but for lying about it in court.
Related Link: Carl Icahn Says Apple Inc. Trades At 50% Discount In Letter To CEO Tim Cook
CNN Money reported that, aside from Cook, there were no other publicly gay CEO's at the 700 largest corporations.
The short list that follows includes some notable LGBT CEOs and a bit of their story.
Robert Hanson
Until he was abruptly let go this past January, Robert Hanson served as CEO of American Eagle Outfitters, Inc. (NYSE: AEO).
According to BuzzFeed News, Hanson's ouster had nothing to do with his sexual orientation and everything to do with clashes between his vision and the company's "old guard."
Following his firing by American Eagle Hanson was appointed a director at Constellation Brands Inc (NYSE: STZ) and also serves as CEO of luxury jewelry brand, John Hardy.
In an August 15 Time Magazine article, Hanson declared, "Yep, I'm gay and I'm a CEO. It doesn't stop me from running a great business."
António Simões
Portuguese born António Pedro dos Santos Simões is CEO UK for HSBC Holdings plc (NYSE: HSBC).
Simões put his personal life on the line in a 2013 video (below) in which he discussed his views on diversity and inclusion.
He also used the video to explain why he favors workplace meritocracy in which "everyone is able to be open about themselves irrespective of race, gender or sexuality."
Paul Reed
CEO of Integrated Supply and Trading at BP p.l.c., Paul Reed, received mention on BP's Diversity and Inclusion website for mention as one of the "Top 50 OUTstanding in Business 2013" list compiled by OUT-Standing in Business and The Financial Times.
Reed told The London Evening Standard that being a gay senior executive could be awkward at times.
"I'm constantly surprised," he said, "when I'm on the trading floor meeting young traders and there's a sudden shock when they realize they've met me somewhere else."
Martine Rothblatt
United Therapeutics Corporation (NASDAQ: UTHR) CEO Martine Rothblatt started life as Martin Rothblatt.
Rothblatt transitioned to a woman in 1994 and today is the highest paid female CEO in the United States, pulling in an estimated $38-million salary last year.
Rothblatt said, "One of the unique insights I have is a huge appreciation for all of the privileges I received as a man."
Related Link: Out on the Street Congratulates Trevor Burgess, First Openly Gay CEO of a Publicly Listed Bank
Trevor Burgess
This past August, C1 Financial, Inc. (NYSE: BNK) CEO, Trevor Burgess, became the first openly gay CEO of a publicly listed bank on the New York Stock Exchange.
Tampa Bay's C1 Financial successfully completed its IPO on August 13, 2014.
In a recent article asking whether gay CEOs were still controversial, Burgess told Bloomberg, "I don't think that ultimately consumers, broadly, really care that much about the sexual orientation of the CEO."
At the time of this writing, Jim Probasco had no position in any mentioned securities.
Posted-In: BuzzFeed John Browne Martine RothblattEntrepreneurship Topics Top Stories Success Stories General Best of Benzinga
View Comments and Join the Discussion!