Ebola Vaccine Contenders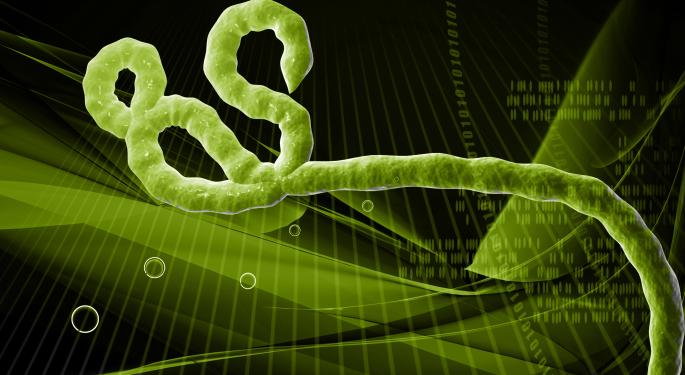 In putting together its "Fighting Ebola" motif, online broker Motif Investing analysts identified 11 companies currently working on Ebola drugs and vaccines.
As to which of the 11 was a "best bet" to develop an effective vaccine or drug first, Motif CFA and senior researcher Peter Andes told Benzinga the company's analysts did not have an opinion.
Equal Weighting
According to Andes, "All of the companies in the motif are equal weighted at the time the motif was created."
"Over time," he added, "the performance of each company may cause the weights to drift up or down, but Motif will rebalance the Fighting Ebola motif every quarter to reset it back to equal weight."
Related Link: Fighting Ebola: Motif Investing For A Cause
The Players
The companies identified by Motif included NewLink Genetics Corp (NASDAQ: NLNK), Amgen, Inc. (NASDAQ: AMGN), BioCryst Pharmaceuticals, Inc. (NASDAQ: BCRX), Chimerex Inc (NASDAQ: CMRX) and Johnson & Johnson (NYSE: JNJ).
Motif's "equal-weighted" list also contained shares of NanoViricides Inc (NYSE: NNVC), Neogen Corporation (NASDAQ: NEOG), Inovio Pharmaceuticals Inc (NASDAQ: INO), GlaxoSmithKline plc (NYSE: GSK), Sarepta Therapeutics Inc (NASDAQ: SRPT) and Tekmira Pharmaceuticals Corporation (NASDAQ: TKMR).
Leading Contenders
Of that group, GlaxoSmithKline PLC and NewLink Genetics Corporation had potential Ebola vaccines about to be used in two large clinical trials in West Africa.
According to the New York Times, the trials would run in Liberia and in Sierra Leone, and would utilize different designs on purpose to ensure usable information.
Liberia
The trial in Liberia would involve about 9,000 in each of three segments. The first segment would receive GlaxoSmithKline PLC's vaccine, known as ADS ChAd3. The second segment would get VSV-EBOV, a vaccine developed by NewLink Genetics Corporation. The third and most controversial segment would receive a placebo designed to test the efficacy of the other two drugs.
Sierra Leone
The clinical trial in Sierra Leone would involve providing everyone with an actual vaccine. The Centers for Disease Control and Prevention, which was planning that test, said nobody would receive a placebo. Different centers in Sierra Leone would offer one of the two vaccines at different times.
Related Link: Hemispherx Joins The Ebola Game
Others In The Pipeline
Meanwhile, Canadian firm, Tekmira Pharmaceuticals Corp said it planned to begin testing its TKM-Ebola treatment as early as December.
Mapp Biopharmaceutical, which produced ZMapp, used to treat Dr. Kent Brantly and Nancy Writebol, both of whom recovered, said it had started making its drug and would eventually have enough for human testing.
At the time of this writing, Jim Probasco had no position in any mentioned securities.
Posted-In: CDC Ebola Kent Brantly Liberia Nancy Writebol Peter WaliaHealth Care General Best of Benzinga
View Comments and Join the Discussion!