What SodaStream Investors Should Keep An Eye On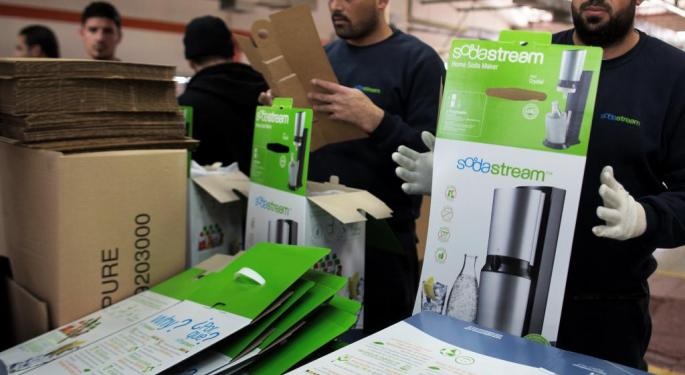 Sodastream International Ltd (NASDAQ: SODA) will report its third quarter results on Wednesday. The maker of the carbonated, at home, do-it-yourself soda machine has seen its shares decline over the past year as the company has failed to live up to expectations.
The consensus estimate calls for SodaStream to earn $0.39 per share on $131.74 million of revenue.
Q2
SodaStream reported its second quarter results on July 30. The company reported a better than expected top and bottom line, earning $0.43 per share on revenue of $141.2 million. Gross margin fell 380 basis points to 50.5 percent due to an unfavorable sales mix and currency fluctuations.
During the company's second quarter results, SodaStream said that its sales remained under pressure in the U.S., where sales declined 14 percent from a year ago to $40.9 million. As a result, the company released full-year fiscal 2014 guidance and expects its revenue to grow 5 percent from a year ago to $562.7 million, falling short of the consensus estimate of $626 million.
Early Q3 Warning
On October 7, SodaStream released a third quarter warning. The company said that it is "very disappointed" to report a preliminary revenue of $125 million and $8.5 million in operating income. Both figures fell short of analyst expectations as the company admitted that acquisition of new customers was weaker than expected.
Related Link: SodaStream Halted With News Pending
The announcement proved to surprise some analysts.
"As we highlighted throughout the year, we had though the company's fiscal 2014 guidance was somewhat aggressive, but we are surprised by the magnitude of the miss in the third quarter," John Faucher of JPMorgan wrote in a note to clients on the same day as SodaStream's warning. "This is the second time out of the last four quarters that SodaStream has negatively pre-announced."
Faucher expects SodaStream to now earn $0.31 per share in the quarter on revenue of $125 million. The analyst maintained a Neutral rating on shares but lowered his price target to $25 from a previous $40.
Quarterly Developments
During the quarter, George Soros' Fund Management sold its stake in SodaStream, as did Tiger Global Management.
The Coca-Cola Co (NYSE: KO) announced a 16.7 percent equity stake in Monster Beverage Corp (NASDAQ: MNST), which led investors and traders to further speculate on the strategic importance of SodaStream and the gap it could fill for a larger beverage maker.
Quarterly developments mostly supported a bearish thesis, until shares spiked more than 20 percent following reports on October 24 that the company will collaborate with PepsiCo, Inc. (NYSE: PEP). The collaboration will include testing Pepsi-branded products in Florida during a 10-week period.
As in the past, SodaStream's name has been thrown around by various news sources, mostly from its native Israel, remarking that the company is a prime takeover target.
In a note to clients on October 7, Bill Schmitz of Deutsche Bank commented that "any potential acquirer would likely need greater clarity on the forward sales and earnings trajectory, which makes the premium multiple many have pondered unlikely until business stabilizes, trade inventory is cleaned up and growth opportunities outside the U.S. are better proven out."
Related Link: Deutsche Bank: SodaStream Could Pursue Strategic Alternatives
What Else To Look Out For
Naturally, investors will expect detailed commentary from SodaStream over its recent agreement with Pepsi and commentary over various M&A chatter.
SodaStream sales may be a victim of the conflict taking place within Israel. Following Israel's conflict with Hamas, a worldwide movement to boycott Israeli goods intensified. Investors should pay attention to any commentary provided by management and its potential effect on guidance.
SodaStream has also welcomed the idea of shifting its advertising strategy to identify itself as a health and wellness provider following a partnership with well-known actress Scarlett Johansson. Investors will likely appreciate further commentary on the company's marketing ambitions, which has historically included a Super Bowl ad spot.
Posted-In: Bill Schmitz George Soros israel John Faucher Scarlett Johansson SodaStreamPreviews Trading Ideas Best of Benzinga
View Comments and Join the Discussion!