Benzinga's M&A Chatter for Tuesday October 14, 2014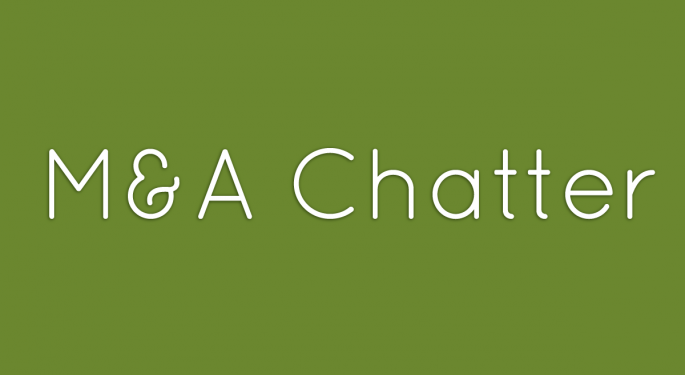 The following are the M&A deals, rumors and chatter circulating on Wall Street for Tuesday October 14, 2014:
The Deal Reports Avista in Talks with Potential Buyers
The Rumor:
Shares of Avista Corp. (NYSE: AVA) spiked higher at the close Tuesday, on a report from The Deal that the company was in talks with potential buyers, although there is not a formal sale process. Potential buyers include Pacificorp owner Berkshire Hathaway (NYSE: BRK.A) and MDU Resources (NYSE: MDU), according to sources.
Avista shares closed Tuesday at $34.03, a gain of 6%.
American Midstream Acquires Costar Midstream for $470M
The Deal:
American Midstream Partners, LP (NYSE: AMID) announced Tuesday, the acquisition of Costar Midstream LLC from Energy Spectrum Partners VI LP and Costar management for approximately $470 million. The deal closed on October 14, 2014.
American Midstream Partners closed Tuesday at $24.93, a gain of 1%.
Iliad Ready to Pursue Another Large Deal Outside France
The Rumor:
France's Iliad (OTC: ILIAY) is ready to seek another large deal outside of France, now that they have given up on a potential $15 billion deal with T-Mobile US, Inc. (NYSE: TMUS), according to WSJ. Sources say Iliad's CEO Xavier Niel is still looking for a big impact acqiuistion.
T-Mobile US shares fell almost 2% Tuesday, to close at $26.41.
Jack Dorsey Refutes Report of Square Takeover Talks with Ebay
The Rumor:
Shares of Ebay (NASDAQ: EBAY) spiked higher Tuesday on a report from Bank Innovation, that PayPal was in early talks to acquire Square, according to sources. The purchase price would reportedly be above $6 billion.
Square CEO Jack Dorsey denied the rumor, tweeting: FALSE: "PayPal Is in 'Early Talks' to Acquire Square."
Ebay ended the day Tuesday up $0.13, at $50.59.
View Comments and Join the Discussion!