Benzinga's M&A Chatter for Thursday October 9, 2014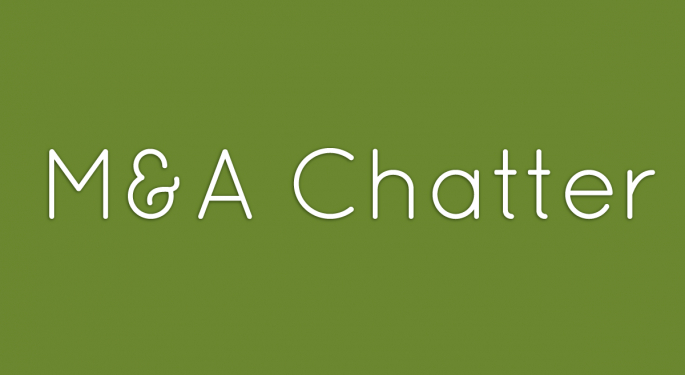 The following are the M&A deals, rumors and chatter circulating on Wall Street for Thursday October 9, 2014:
Yelp Spikes Higher on Renewed Takeover Chatter
The Rumor:
Shares of Yelp (NYSE: YELP) spiked higher Thursday on renewed market chatter of a potential takeover offer. This time, the rumored buyer was Google (NASDAQ: GOOGL).
Yelp has been the subject of frequent takeover chatter. Spokespersons for Yelp and Google were not available for comment.
Yelp closed Thursday at $69.62, a loss of $0.53.
Kindred to Acquire Gentiva for $14.50/Share in Cash, $5.00/Share in Kindred Stock
The Deal:
Kindred Healthcare, Inc. (NYSE: KND) and Gentiva Health Services, Inc. (NASDAQ: GTIV) announced Thursday, that Kindred will acquire all of the outstanding shares of Gentiva common stock for $19.50 per share in a combination of cash and stock. Gentiva shareholders will receive $14.50 per share in cash and $5.00 per share in Kindred common stock
The deal is expected to close in Q1 2015.
Gentiva Health closed Thursday at $19.49, a gain of more than 16%, while shares of Kindred Healthcare gained 5%, to close at $20.75.
Endo to Acquire Auxilium Pharmaceuticals for $33.25/Share
The Deal:
Endo International plc (NASDAQ: ENDP) and Auxilium Pharmaceuticals, Inc. (NASDAQ: AUXL) announced Thursday that Endo will acquire all of the outstanding shares of common stock of Auxilium for $33.25 per share, in a cash and stock transaction, in a deal valued at $2.6 billion. Auxilium shareholders may choose 100% equity, 100% cash, or an equal mix of $16.625 in cash and 0.244 Endo shares per Auxilium share.
The deal is expected to close in H1 2015.
Auxilium Pharmaceuticals shares rose 9% Thursday, to close at $32.44, while Endo shares lost 6%, to close at $66.78.
Elliott Management Reaffirms $21.00/Share Offer for Riverbed
The Offer:
Elliott Management Corporation commented Thursday, on Riverbed Technology, Inc.'s (NASDAQ: RVBD) announcement of preliminary earnings and strategic review process. Elliott said "We commend the Board for initiating a strategic review and believe that Riverbed is a great company with products customers value," said Jesse Cohn, portfolio manager at Elliott Management. "We have made a $21 bid for the company, and our team and advisors look forward to completing our confirmatory diligence in an expedited fashion."
Riverbed Technology shares rose almost 3% Thursday to close at $18.59.
View Comments and Join the Discussion!
Posted-In: M&A News Rumors Hedge Funds Management Insider Trades Movers General