Who Knew There'd Be So Much Drama At A Banana Company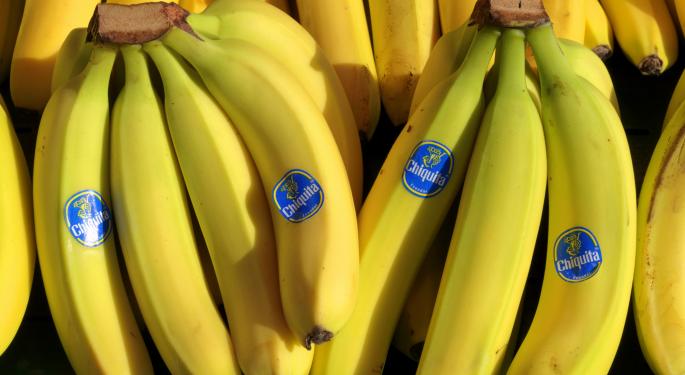 Throughout 2014, Chiquita Brands International, Inc. (NYSE: CQB) has made headlines -- some positive, some negative. With all the talk about mergers, acquisitions, inversion and more, a quick review is in order.
February 27: Q4 And Full-Year 2013 Report
On February 27, Chiquita reported a GAAP (Generally Accepted Accounting Principles) net loss of $16 million for 2013, compared to $405 million in 2012. The adjusted EBITDA (Earnings Before Interest, Taxes, Depreciation and Amortization) was $118 million compared to $70 million in 2012.
As far as Q4 2013 was concerned, the company reported a GAAP net loss of $31 million compared to $333 million in the same quarter of 2012.
At the time, CEO Ed Lonergan said, "Chiquita's improved results in 2013 reflect our decision to return our focus to the core businesses, and the first full year of execution."
Related Link: Top Banana: Chiquita And Fyffes Announce Merger
March 10: Merger With Fyffes Announced
On March 10, the company said it planned to combine with Fyffes Plc Ord (OTC: FYFFF) of Ireland in a stock-for-stock transaction to create a new company, ChiquitaFyffes.
The proposed merger would result in Chiquita shareholders owning 50.7 percent of the new company and Fyffes shareholders owning 49.3 percent.
March 11: Problems Begin
Almost immediately, problems began to surface. The city of Charlotte, where Chiquita headquarters went after being lured from Cincinnati with $22 million in incentives, began to cry foul.
Since the new company would place its HQ in Ireland, which has a lower corporate tax rate, conversations about "inversion" (the practice of moving a company's headquarters overseas to escape tax liability) began to surface.
August 11: Cutrale Group And Safra Group Make Offer
More recently, Chiquita confirmed it had received an unsolicited offer from, according to the company, the "Cutrale Group and the Safra Group to acquire all of the outstanding common stock of Chiquita at a price of $13.00 per share in cash to Chiquita shareholders."
By August 14, the company said it had determined the $13.00 per share offer was "not in the best interests of Chiquita and its shareholders."
September 26: Fyffes Deal Revised
Responding to disgruntled shareholders and an August 15 hostile takeover threat from Cutrale and Safra, the companies announced on Friday, September 26 that the proposed merger deal had been revised.
Now, former Chiquita Brands shareholders would own 59.6 percent of the new company. Former Fyffes shareholders would own 40.4 percent.
In a statement, Lonergan said, "We are pleased with the increased value that these enhanced terms for Chiquita bring to our shareholders."
October 3: European Union Approves The Merger
The Wall Street Journal reported that the European Union approved the proposed merger between Chiquita Brands and Fyffes on Friday, October 3. The approval stipulated that Fyffes would end an exclusivity contract with shipping company Maersk.
As a result, all required regulatory approvals for the merger had been received. All that remained after the EU approval was approval by the High Court of Ireland and, of course, the shareholders of both companies.
October 8: Shareholder Lawsuit Filed
The latest roadblock came when Chiquita was hit with a shareholder lawsuit October 8. Filed in federal court in Camden, New Jersey by the City of Birmingham Firemen's and Policemen's Supplemental Pension System, the suit sought to halt a shareholder vote, set for October 24, on the merger between Chiquita and Fyffes.
Among the charges made by Chiquita shareholders: The "implied value" shareholders would receive under the proposed merger with Fyffes was only $10 per share versus the $13.00 per share offer from the South American groups, Cutrale and Safra.
At the time of this writing, Jim Probasco had no position in any mentioned securities.
View Comments and Join the Discussion!
Posted-In: Chiquita Brands International ChiquitaFyffes EBITDA Ed LonerganM&A News Legal Top Stories Best of Benzinga