Cadillac President Johan De Nysschen's Epic Facebook Rant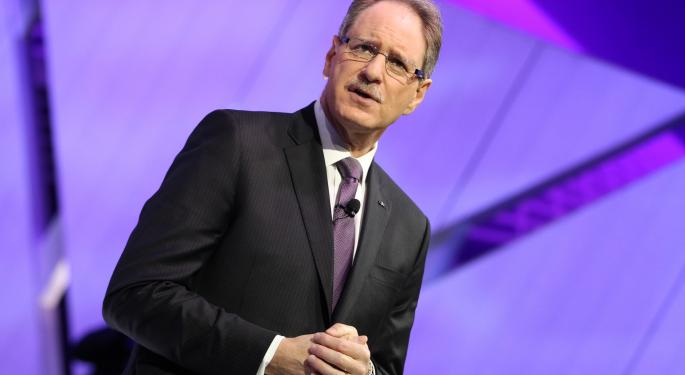 Johan de Nysschen, global head of General Motors Company's (NYSE: GM) Cadillac division, posted quite the Facebook rant last week.
Among the points Nysschen made in his nearly 500-word epistle were the following:
Explicit Instructions
Nysschen started his post by saying, "Been quite a hectic few days. (GM CEO) Mary Barra and (President) Dan Amman have been very explicit in their instructions: restore Cadillac to the pinnacle of global premium brands, not in sales but in aspirational brand character."
Suggesting that repeating the past would not yield a different result Nysschen said, "OK, let's get to work."
Related Link: What To Expect From Mary Barra's Plan For General Motors Company
Mocking The Reaction
In an almost mocking tone, he ticked off several recent announcements the company had made, followed by public reaction (or lack thereof).
Nysschen complained that the announcement of a new flagship car got no public reaction.
He then credited the industry media with a "slight twitch of the left eyebrow" in reaction to Cadillac's announcement that it would go on a product offensive that would give the company 95-percent coverage in the premium car market.
He suggested every "armchair marketing expert" had at least 10 opinions to share on the announcement of a "new nomenclature system, to denote hierarchy and accommodate expanded future portfolio."
Firing Back At Retirees
Nysschen directed one of his biggest blasts at GM retirees who suggested the plan to establish Cadillac as a separate unit of General Motors was "the dumbest idea since the Cimmaron."
In response to that Nysschen said, "I quietly wonder if any of them (retirees) had a hand in creating that masterful monument to product substance."
The Wrath Of Hell
In response his characterization that the "wrath of hell" had descended on him for announcing that Cadillac would establish its global headquarters in New York because he preferred to live in that city, Nysschen said simply, "This has nothing to do with Detroit. And certainly has nothing to do with where I choose to live. It has everything to do with creating an awesome car company."
Distance Must Be Physical
Nysschen then doubled down on the headquarters move.
"To create this change in approach," he said, "Cadillac must put distance between itself and the parent."
He didn't just mean philosophical difference.
"If we don't move," Nysschen said, "nothing will change. Physical relocation forces a change to processes."
Related Link: General Motors Company Surges On Citi Buy Rating
"Don't Mess With Me"
Nysschen closed his post by making it clear, the move was on and nothing would change.
While he told Detroit fans that he loved their city and noted that Cadillac's success would be Detroit's success since the majority of jobs would remain in Detroit, he lobbed one final shot.
"Other than that," he said, "don't mess with me."
At the time of this writing, Jim Probasco had no position in any mentioned securities.
Posted-In: Cadillac Dan Amman Detroit Facebook General Motors Johan De Nysschen Mary BarraTop Stories Best of Benzinga
View Comments and Join the Discussion!