5 More Ways 3D Printing Is Taking Over The World: 3D Systems Corporation, Organovo Holdings & More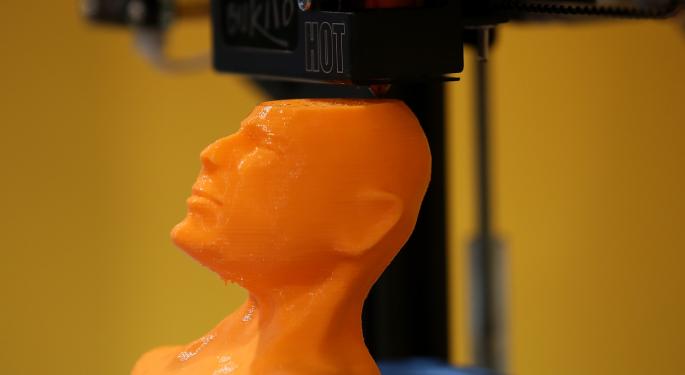 By now, there is almost no segment of society that hasn't at least explored the use of 3D printing technology in some way.
A recent Benzinga article looked at how 3D printing was transforming the world through its impacts on the automotive industry, space exploration, food, the environment (waste reduction) and art.
Here are five more areas in which 3D printing technology has already gained an impressive foothold.
Related Link: 5 Ways 3D Printing is Taking Over The World: Ford Motor Company, Stratasys, Ltd. & More
Education
3D printing is starting to flourish in education. This market benefits not only equipment and supplies sales now, but also the industry's future, as students learn how to apply 3D printing to real world problems and technology.
3D Printing Industry listed a number of projects and partnerships designed to ensure that both K-12 and post-secondary education included access to and training in 3D printing technology.
One recent example involved a partnership between 3D Systems Corporation (NYSE: DDD) and YALSA (Young Adult Library Services Association) to bring 3D printers and other equipment into public libraries and museums.
Military
Military forces in general and the U.S. military in particular are known to be on the leading edge of all new technology. Small wonder then that the U.S. military has been heavily involved in 3D printing.
One of the more interesting applications came in July of this year when the U.S. military 3D printed an Iron Man-like suit created by Hollywood FX experts, Legacy Effects. The suit could potentially be used to encase and protect soldiers on the battlefield.
In other developments, the military has made great strides in creating 3D-printed food as a way to offer visually appealing and tasty food rations to soldiers in combat conditions.
Using Stratasys, Ltd.'s (NASDAQ: SSYS) Makerbot and 3D's ChefJet printers, researchers have already gone a long way toward changing the face of MRE's forever.
Electronics
The ability to 3D print fully assembled electronics systems has long been the dream of electronics manufacturers. Although most products so far are "single function" the industry has been getting closer to printing complex devices.
Much credit goes to the organizers of the global 3D Printing Electronics Conference. The second meeting of members from universities, research institutes and companies will take place in the Netherlands in 2015.
A leader in 3D-printed electronics is Microsoft Corporation (NASDAQ: MSFT) which successfully combined 3D printing and printable electronics in February of this year.
Related Link: What Are The Two Most Exciting 3D Printing Stocks?
Toys
In a completely disruptive sense, home 3D printers could spell trouble for traditional toy manufacturers. A CNBC report noted a small company called Extreme Fliers, which said it would let customers who bought its $99 toy drone 3D print accessories at home.
On the other side of the sales counter, Shapeways and Hasbro, Inc. (NASDAQ: HAS) have partnered to allow fans of My Little Pony, Transformers and Monopoly, along with other toys, to create and sell their 3D printable designs through an online marketplace.
Medicine
One of the fastest-growing areas of 3D printing is bioprinting or the digital construction of living tissue. Organovo Holdings (NYSE: ONVO) has already said it would offer commercially available liver tissue yet this year.
Already available are 3D printed robotic prosthetic limbs, teeth and even heart valves.
For these and other reasons Dr. Anthony Atala, director of the Wake Forest Institute of Regenerative Medicine said, "3D printing has the potential to revolutionize medicine."
At the time of this writing, Jim Probasco had no position in any mentioned securities.
View Comments and Join the Discussion!
Posted-In: 3D 3D Systems Corporation Bioprinting CNBC hasbroHealth Care Tech General Best of Benzinga