Airware CEO On The Future Of Commercial Drones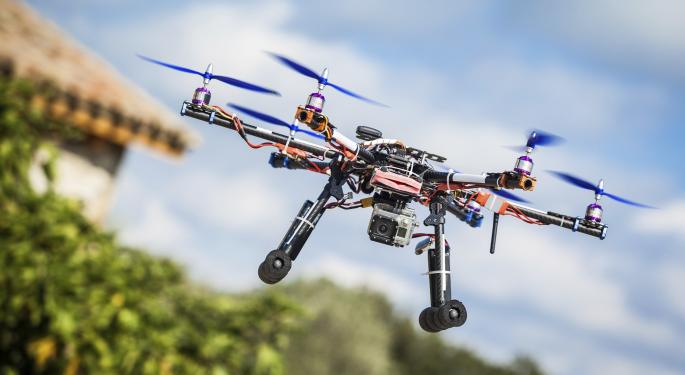 Drones have been in the news a lot lately. From a commercial perspective, drones hold a tantalizing amount of potential, and some companies have been stepping up their investments in drone technology.
Not long ago, E-commerce giant Amazon.com, Inc. (NASDAQ: AMZN) announced an interest in drones as part of its desire to trim Amazon Prime air deliveries down to 30 minutes. Amazon went so far as to ask the Federal Aviation Administration for an exemption from the ban on the use of drones for commercial purposes.
Companies' commercial drone dreams are not going away. To that end, a company called Airware is building an operating system for commercial drones.
Related Link: Oil's Decline: What's It Mean For Investors?
Airware CEO Jonathan Downey recently sat down with Kleiner Perkins to discuss current topics surrounding the commercial drone industry. Key excerpts from the interview are discussed below.
Technological Capabilities Increasing
Downey noted the tremendous advancements the drone industry has made in just the past couple of years. Expertise from the military use for drones has spilled over into the commercial space, which explains the flurry of activity in the drone industry. Now the sensors needed to fly drones are small and cost-effective enough to use on a wide level.
Nonetheless Downey added a lot of progress remains to be made for commercial drones to be mass-marketed. For example, technology for reliable communication between drones needs to be developed.
Simplifying drone operation through increasing automation is also an area that needs work. Downey said his understanding is that in the military world, most drone crashes result from human error during takeoff. Automating this system will allow the technology to enjoy a higher rate of success for commercial purposes.
Widespread Usage Coming
Commercial drones might seem like science fiction, but Downey sees applications across several key industries. "It's happening today, definitely. Some of our early beta customers have been doing commercial operations of their aircraft for open-air mining operations and some limited agriculture operations for the past year or two."
A key hurdle for commercial drone usage in the United States is the relatively harsh regulatory environment. Downey still believes the U.S. can avoid falling behind the rest of the world if policy makers put in place reasonable regulations.
Airware is on the forefront of drone technology, which could have a booming commercial usage in the near future. Airware builds the key electronic software and cloud services that companies would need to power their drones. If the technology takes off as anticipated, Airware has a bright future.
Posted-In: Airware comments Commercial Drones Jonathan DowneyTopics Tech General Best of Benzinga
View Comments and Join the Discussion!