Where GM, Ford Motor Company And Google Inc Are With The Automated Car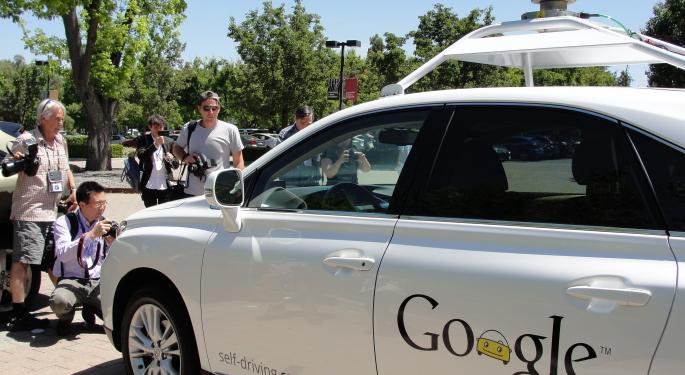 A recent University of Michigan study concluded that a majority of Americans had a positive opinion about self-driving vehicles. Most people who have read about automated vehicles have likely read about Google Inc's (NASDAQ: GOOG) highly publicized attempts to build an autonomous car.
Google has not been alone. At least two major publicly traded American companies are also moving aggressively into the world of automated vehicles.
GM 'Super Cruise'
The Cadillac division of General Motors Company (NYSE: GM) said in April of last year that its "Super Cruise" semi-automated driving system was entering the next stage of development, including real-world testing.
Related Link: 5 Ways 3D Printing is Taking Over The World: Ford Motor Company, Stratasys, Ltd. & More
GM said earlier this month it would launch cars with the hands-free automated driving system by 2016.
Company officials told The Wall Street Journal the system, which would allow drivers to ride with hands off the steering wheel, would require them to remain attentive.
The company would not say how much the new "Super Cruise" feature would cost.
Ford 'Blueprint for Mobility'
Partnering with the Massachusetts Institute of Technology (MIT) and Stanford, Ford Motor Company (NYSE: F) in January said it hoped to advance its Blueprint for Mobility, a project that predicted autonomous vehicle technology would be in place sometime after 2015.
Ford's vehicle of choice has been an automated Fusion Hybrid, which the company first unveiled in December 2013.
Ford's automated Fusion Hybrid has utilized some of the same technology already present in Ford vehicles on the road. It added four LiDAR sensors that generate a real-time 3D map of the vehicle's surrounding environment.
Ford said its ultimate goal was a vehicle capable of exercising "common sense."
Related Link: 5 Reasons Why Automakers Shouldn't Fear Google Inc's Driverless Car
Google Goes Driverless
The primary difference between Ford, GM and Google, when it comes to automated cars is the fact Google decided to eliminate the driver permanently.
Saying it hasn't been able to devise a way to return control of an automated car to a driver safely, Google engineers and technicians have made their vehicle completely autonomous.
To that end, the company began building a fleet of 100 prototype experimental electric-powered cars that would have none of the standard components of a regular automobile. That means no steering wheel, no gas pedal, no brake and no gear shift.
The vehicle would have a red "e-stop" panic button and a standalone start button.
Google said its prototype vehicles should be available early in 2015, but would not say how much they would cost.
Legislation A Driving Factor
According to Eric Ibara, senior analyst at Kelly Blue Book, most of the challenges related to making self-driving cars a reality lie in the legislative, not engineering arena.
"Although a self-driving car would have seemed like a Jules Verne vision only a few years ago," Ibara told Benzinga, "the technology to enable it has been appearing in luxury vehicles for quite some time.
"Liability issues and regulation of these vehicles are still being debated," he added, "and may be the final impediments before these vehicles are introduced to the market."
Even then, said Ibara, large-scale adoption of driverless technology was not projected because "most people will likely still choose to remain in control behind the wheel."
At the time of this writing, Jim Probasco had no position in any mentioned securities.
Posted-In: comments Eric Ibara Fusion KBB.com MIT StanfordTop Stories Media Best of Benzinga
View Comments and Join the Discussion!