Richard Branson And The Unlimited Vacation Push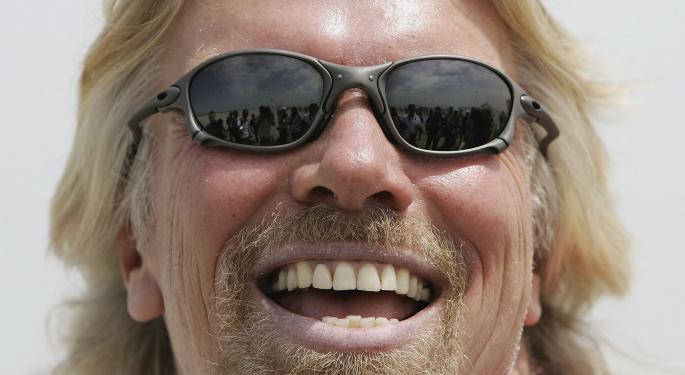 On September 23, Richard Branson announced on his blog that the 170 employees of Virgin Management, the company that manages his family's investments, are able to take vacations for any length of time, whenever they want.
The move is a test to gauge the efficacy of an unlimited vacation time policy. As he wrote at the end of the blog post, "Assuming it goes as well as expected, we will encourage all our subsidiaries to follow suit."
As Branson described in that post, the decision was inspired by the approach that Netflix, Inc. (NASDAQ: NFLX) takes to vacation time.
To be clear, there is a somewhat substantial difference between the two companies.
Netflix does not actually have an unlimited vacation time policy. Rather, it has a culture of "Freedom and Responsibility," meaning it does not track employee hours and expects each team member to work on his or her own schedule.
Related Link: Richard Branson Has Virgin Galactic Accepting Bitcoins
Branson acknowledged this difference in his blog post, referring to the Netflix take on vacation time as a "policy-that-isn't."
Though his company is establishing an actual policy, the move is coming from the same place: Employees now have a significant portion of their responsibilities controlled by technology -- including out-of-office business emails and remote work -- which blurs the line between work and non-work.
As Branson asked, "If Netflix was no longer able to accurately track employees' total time on the job, why should it apply a different and outmoded standard to their time away from it?"
Other Models
Though most companies do not offer such policies, there are a few notable examples of those that do.
ZocDoc, the New York-based startup that offers 2.5 million unique visitors per month an easy way to book doctor appointments online, gives employees unlimited vacation time.
As Karsten Vagner, the company's so-called "director of people," told VentureBeat about his 10-day vacation to Fiji, "I worked a lot to make sure everything was covered... There's a clear expectation that you do your job and do it well. We believe taking time off doesn't have to interfere with that."
Another is Groupon. On Glassdoor, a website that allows employees to review and critique their jobs and companies, most reviews mention the policy, as well as the ability to work from home.
Other companies with similar vacation policies included Ask.com, Eventbrite, Evernote, VMWare and Zynga.
A Final Point
Still, less than 1 percent of companies offer such vacation leniency, and that could be a good thing.
As Venessa Wong of BusinessWeek pointed out last week, "The glow of trust and togetherness that such policies provide could actually make employees less likely to take time off. Already, some 40 percent of American workers don't use all their paid vacation days."
Posted-In: Glassdoor Richard Branson Vacation Policy Virgin Group Virgin ManagementEntrepreneurship Psychology General Best of Benzinga
View Comments and Join the Discussion!