Benzinga's Weekend M&A Chatter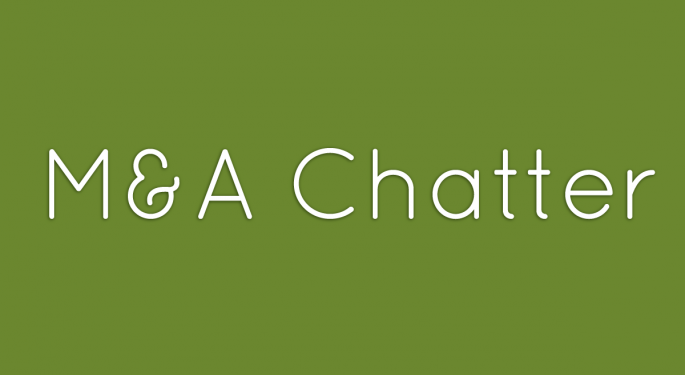 The following are the M&A deals, rumors and chatter circulating on Wall Street for Friday September 26 through Sunday September 28, 2014:
Starboard Urges Yahoo! to Acquire AOL
The Activist Letter:
Shares of Yahoo! Inc. (NASDAQ: YHOO) and AOL Inc. (NYSE: AOL) surged higher Friday, as Starboard Value LP announced it has acquired a significant stake in Yahoo! and that it delivered a letter to CEO Marissa Mayer. The letter mentioned potential opportunities to unlock shareholder value.
These opportunities include: Unlocking the substantial value from Yahoo's non-core minority equity stakes in Alibaba Group Holding Limited (NYSE: BABA) and Yahoo Japan in a structure that delivers value directly to Yahoo shareholders in a tax-efficient manner, reducing expenses throughout the company, halting Yahoo's aggressive acquisition strategy and exploring a strategic combination with AOL.
Yahoo acknowledged receipt of the letter from Starboard, and said it will continue to maintain an open dialogue with all shareholders. CEO Mayer said the company will "review Starboard's letter carefully and look forward to discussing it with them."
Yahoo shares closed Friday at $40.66, a gain of more than 4%, while AOL shares gained about 3.5%, to close at $44.56.
Report of Softbank $32.00/Share Bid for Dreamworks Animation
The Rumor:
SoftBank Corp. (OTC: SFTBY) is in talks to acquire DreamWorks Animation SKG Inc. (NASDAQ: DWA), according to The Hollywood Reporter and reported later by WSJ on Saturday.
SoftBank reportedly has offered $32 per share, for the company headed by CEO Jeffrey Katzenberg, according to sources, valuing DWA at $3.4 billion. Spokespersons for both companies declined comment.
DreamWorks Animation closed at $22.36 on Friday, a gain of $0.13.
Alibaba Pays $459M for Stake in Beijing Shiji Information Technology Co
The Stake:
Alibaba Group Holding Ltd (NYSE: BABA) has acquired a 15% stake in Beijing Shiji Information Technology, a company provides IT consulting services to hotels and sells room reservation software, for $458.66 million. It is Alibaba's first large deal since its $25 billion IPO.
Alibaba closed Friday at $90.46, a gain of $1.54.
Daiichi Sankyo to Acquire Ambit Biosciences for $15/Share in Cash
The Deal:
Daiichi Sankyo Company, Ltd. (OTC: DSNKY) and Ambit Biosciences (NASDAQ: AMBI), announced Sunday that Daiichi Sankyo will acquire all of the outstanding common stock of Ambit Biosciences for $15 per share in cash, or approximately $315 million on a fully diluted basis. through a tender offer followed by a merger with a subsidiary of Daiichi Sankyo. Additionally, each Ambit Biosciences stockholder will receive one Contingent Value Right (CVR), entitling the holder to receive an additional cash payment of up to $4.50 for each share they own if certain commercialization related milestones are achieved. That values the total transaction at up to $410 million.
The deal is expected to close following receipt of HSR clearance and the close of the tender period.
Ambit Biosciences Friday at $8.20, a loss of $0.14.
View Comments and Join the Discussion!