3 Soft Drink Kings Pledge To Make Americans Healthier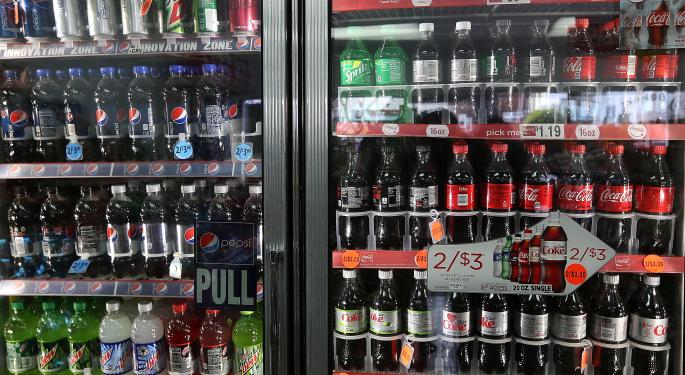 The three largest soda companies in the world -– The Coca-Cola Company (NYSE: KO), PepsiCo, Inc. (NYSE: PEP) and the Dr Pepper Snapple Group, Inc (NYSE: DPS) -– have pledged to reduce calories in their sugary drinks by one-fifth over the next 10 years.
Big Deal
The pledge, made Tuesday at the Clinton Global Initiative in New York, caught the attention of the former president who told The New York Times, "This is huge. I've heard it could mean a couple of pounds of weight lost each year in some cases."
Perhaps more importantly, the promise was also an admission by the companies that they have played a role in America's obesity crisis as well as rising rates of diabetes, heart disease and other health issues in recent years.
Related Link: The Coca-Cola Company's 'Surge' Comeback Causes Social Media Stir
The Health Problem
Among the health issues for which soft drink makers bear some responsibility, according to researchers, is the fact that gut bacteria undergo changes in people who consume large amounts of artificial sweeteners. The changes lead to glucose intolerance, which can contribute to the onset of diabetes.
According to WebMD Health Corp., a plethora of studies have linked carbonated soda with increased risk for stroke, obesity, kidney damage, elevated blood pressure and even certain types of cancer.
The Plan
A promise is only as good as the plan of action behind it. Coke, Pepsi and Dr Pepper said their desire to reduce sugary drink calories by 20 percent by 2025 included expanding the number of low and no-calorie beverages.
In addition, the companies said they would promote and sell drinks in smaller portions. Advertising and promotional materials would seek to educate consumers about the need to reduce the number of calories they consume via soft drinks.
Contributions So Far
Tuesday's pledge is only the latest in a series of health-friendly initiatives launched by the "big three" in recent years.
Each has attempted to diversify its product line with the introduction of bottled water, juice and energy drinks.
Coke bought a minority stake in energy drink maker Monster Beverage Corporation and acquired an interest in Keurig Green Mountain, Inc., a move that resulted in an upcoming Keurig machine designed to make cold single-serve beverages.
Related Link: Dr Pepper Hits 52-Week High on Strong Q2 Performance
The Bottom Line
Though it is likely true that Coke, Pepsi and Dr Pepper care about the health of their customers, the companies also care about the corporate bottom line.
If they do, Argus Research Securities Analyst John Staszak said they need to follow through on the pledge made Tuesday.
Staszak told Benzinga, "They (soft drink companies) need to do whatever is necessary to counteract weak sales of carbonated beverages."
Asked if a 20 percent reduction in calories over a decade was a reasonable goal, Staszak said it was. He also said he believed the companies making the pledge could achieve it.
At the time of this writing, Jim Probasco had no position in any mentioned securities.
Posted-In: Argus Research Bill Clinton Coca-cola Dr Pepper. Snapple John StaszakHealth Care Top Stories General Best of Benzinga
View Comments and Join the Discussion!