Benzinga's M&A Chatter for Wednesday September 24, 2014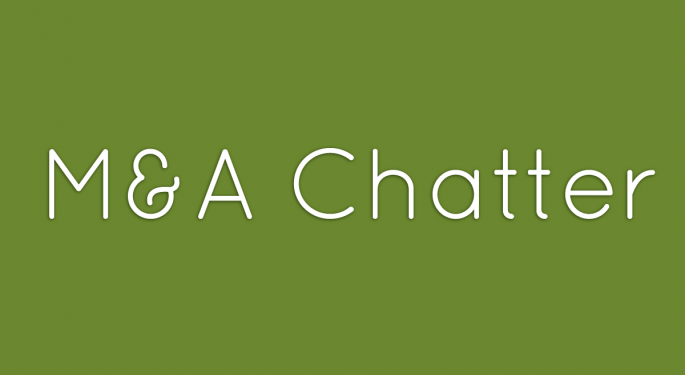 The following are the M&A deals, rumors and chatter circulating on Wall Street for Wednesday September 23, 2014:
Yahoo Said to be Seeking Yelp Takeover
The Rumor:
Shares of Yelp, Inc. (NYSE: YELP) Spiked higher Wednesday, on renewed takeover chatter, with Yahoo (NASDAQ: YHOO) the rumored acquirer. Yahoo has been seen as a potential acquirer of Yelp, going back to a March 2013 note from Wunderilch's Blake Harper.
Spokespersons for Yelp and Yahoo were not available for comment.
Yelp shares closed Wednesday at $72.97, a gain of $1.24.
Starz Seeking Sale, Met with Fox
The Rumor:
Executives from Starz (NASDAQ: STRZA) and 31st Century Fox (NASDAQ: FOXA) met on Tuesday to discuss the potential acquisition of the premium cable movie service by Fox, according to the LA Times. Fox walked away from an attempt to acquire Time Warner (NYSE: TWX) in August, after the parent of HBO rejected an $85.00 per share offer.
According to a source, Fox does not have an interest in acquiring Starz.
Starz Industries shares closed Wednesday at $269.37, a gain of more than 5%.
Acorda Therapeutics to Acquire Civitas Therapeutics for $525M in Cash
The Deal:
Acorda Therapeutics, Inc. (Nasdaq: ACOR) announced Wednesday, that it will acquire privately-held Civitas Therapeutics for $525 million in cash. Acorda will obtain worldwide rights to CVT-301, a Phase 3 treatment candidate for OFF episodes of Parkinson's disease, and also includes rights to Civitas' proprietary ARCUSTM pulmonary delivery technology and manufacturing facility with commercial-scale capabilities in Chelsea, MA.
The deal is expected to close in Q2 of 2014.
Acorda Therapeutics shares closed Wednesday at $240.85, a gain of more than 2%.
Report of Potential Alibaba Interest in Expedia's China Holding
The Rumor:
Shares of Expedia (NASDAQ: EXPE) rose as high as $86.20 on Wednesday, on a report out of China, that Alibaba's (NYSE: BABA) Taobao Travel may have an interest in acquiring a stake in Chinese travel site eLong (NASDAQ: LONG), of which Expedia owns 65%. Spokespersons for Expedia and Alibaba did not respond to requests for comment.
Expedia closed Wednesday at $85.94, a gain of more than 2%. eLong shares rose 4.5% to close at $19.26.
Report Actavis in Early Talks with Salix
The Rumor:
CNBC's David Faber reported Wedneday, that Actavis plc (NYSE: ACT) was in early stage talks to acquire Salix Pharmaceuticals (NASDAQ: SLXP), according to sources. This follows a report on Tuesday that Allergan (NYSE: AGN) was also in talks with Salix, as part of an attempt to fight off a hostile takeover by Bill Ackman and Valeant Pharmaceuticals International, Inc. (NYSE: VRX).
Actavis closed Wednesday at $248.00, a gain of almost 3%. Salix Pharmaceuticals lost almost 1% to close at $167.52.
Report of GE Takeover Interest in SunEdison
The Rumor:
Shares of SunEdison (NYSE: SUNE) rose Wednesday, on a report that General Electric Company (NYSE: GE) was in talks to acquire the manufacturer of silicon wafers. SunEdison shares rose as high as $21.39 on the rumor.
Bloomberg later reported that a GE spokesperson denied the report was not true.
SunEdison closed Wednesday at $20.28, a gain of 5%.
PE Firms Said to have Interest in Tibco Acquisition
The Rumor:
Shares of Tibco Software Inc. (NASDAQ: TIBX) spiked higher Wednesday, on a report from Reuters that private equity firms Vista Equity Partners and Thoma Bravo are among companies seeking to acquire Tibco. The dollar amount of the prospective offers, if any, is not known.
Tibco announced on September 3, it had hired Goldman Sachs to assist it in exploring strategic alternatives. A note from Mizuho Securities on September 16, said the acquisition potential for Tibco was likely overstated.
Tibco Software closed Wednesday at $20.26, a gain of 6.5%.
View Comments and Join the Discussion!