Nike Inc's NFL Dilemma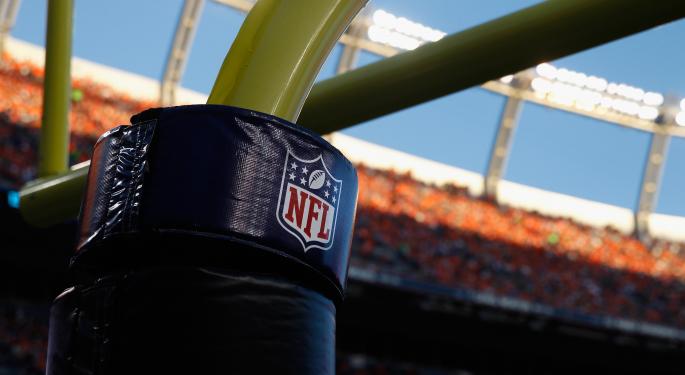 Amid Nike Inc's (NYSE: NKE) preparations for Thursday's earnings release, the turmoil surrounding the National Football League and allegations of domestic abuse by players continues to capture headlines.
The NFL Problem
Nike suspended its contract with Minnesota Vikings running back Adrian Peterson following child abuse allegations last week.
Earlier this season, the company terminated its relationship with Ray Rice of the Baltimore Ravens after the release of the infamous video showing Rice hitting his then-fiancé in an elevator.
It is widely anticipated Nike will be asked to comment on the NFL situation during its earnings call.
Related: Nike Inc, Bed Bath & Beyond Inc. - Earnings Expectations For The Week Of September 22
The Dilemma
The Wall Street Journal recently noted that although major sponsors like Nike have spoken out and even taken some action, they have not pulled advertising dollars from highly popular NFL programming.
One clear problem, in particular, is the risk of jeopardizing the benefit sponsors receive from their relationship with the NFL and its 17 million viewers (on average) for each football game.
As one major NFL advertiser told The Wall Street Journal, "In a world where you can't get a big audience anymore, where the hell are you going to go?"
A Question of Contracts
Darren Heitner, founder and CEO of Dynasty Dealings and professor of Sports Management at Indiana University, brought up another important issue facing companies who sign major athletes to endorsement contracts.
Heitner told Benzinga, "Corporations, much like individuals, are bound by the contracts and the terms contained therein when they enter business relationships with athletes. A company like Nike is not even in the clear when it decides to completely cut ties with one of its athlete endorsers, relying on what is typically a very vague and broad morals clause.
"Nike could come out and provide some sort of statement that chastises the player, but that would also be overreaching under the circumstances," he added.
Related: Would Sponsors Ever Leave The NFL?
The Red Bull Solution
Forbes suggested a simple strategy in which companies like Nike would begin moving away from identifying their products with a specific celebrity.
Instead, Forbes said, they could follow the example of Red Bull, which has sponsored events -– like Formula 1 racing or Felix Baumgartner's space jump –- instead of relying solely on celebrity endorsements.
At the time of this writing, Jim Probasco had no position in any mentioned securities.
View Comments and Join the Discussion!
Posted-In: Adrian Peterson Benzinga Darren Heitner Forbes National Football League NikeTopics General Best of Benzinga