Warren Buffett Is Bullish On Detroit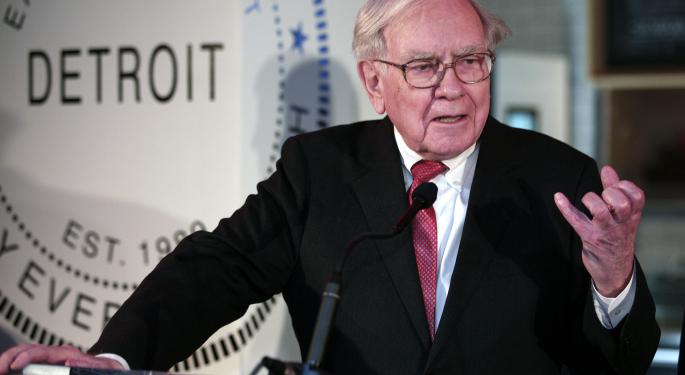 Warren Buffett was in Detroit Thursday as a guest for Crain Communications' "Detroit Homecoming." The three-day event will bring in ex-pats and other successful business people with ties to the city.
Dan Gilbert, CEO of Quicken Loans, sat down with Warren Buffett to discuss (among other things) the General Motors Company (NYSE: GM) bailout and how Buffett nearly bought the Ambassador Bridge.
When asked how Detroit is viewed from the outside, Buffett kept it short and to the point: "Financials got out of hand."
Related Link: 3 Must-Read Startup Tips From The CEO Of Fathead
Regarding General Motors, Buffett said he "love[s] it when CEOs have a passion for their business."
He stands behind his view on GM by holding a 2 percent stake in the automaker. When discussing government bailouts, Buffett said, "there was only one party in 2008 that could lever up and that was the U.S. government."
Oracle Of Ontario?
Buffett almost had a chance to buy the Ambassador Bridge, which connects Detroit to Canada. He had bid on the bridge after analyzing "10,000 pages of Moody's publications," but wound up being defeated by billionaire Matty Moroun in 1979.
The Ambassador Bridge is the the busiest international border crossing in North America, in terms of trade volume.
Overall, Warren Buffett seems bullish on Detroit. Much like with General Motors, Buffett believes that "we shouldn't let the financial condition of the company destroy it when you look at the damage that could have been without any effort."
When Dan Gilbert asked Buffett what he thought about Berkshire Hathaway Inc.'s (NYSE: BRK-A) stock price, Buffett said "it's good because it means there's more I can give away."
Buffett and Goldman Sachs CEO Lloyd Blankfein brought the 10,000 Small Businesses initiative to Detroit last November.
Posted-In: Canada Dan Gilbert Detroit Detroit Homecoming Quicken Loans Warren BuffettNews Events Best of Benzinga
View Comments and Join the Discussion!