Automakers Flood Into Mexico, Creating New Economic And Investment Opportunities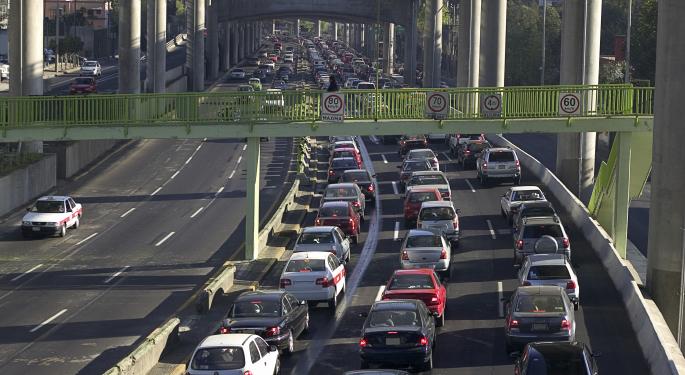 Is Mexico becoming the world's factory floor when it comes to auto production?
A recent Benzinga article examined the growing tide of investment by global automakers in Mexico as the major companies break ground on new factories or bulk up current production facilities. The International Business Times, meanwhile, notes that at least nine major car companies have (or are planning to have) auto assembly sites in Mexico.
This development is creating a major boost for Mexico's economy. It's become so important that Mexican President Enrique Peña Nieto took part in last month's announcement that South Korea's Kia Motors (OTC: KIMTF) was investing more than $1 billion in a new car factory in northern Mexico, with production slated to start in 2016.
Related Link: Really, Elon? Tesla Motors Inc CEO Says His Cars Could Be Fully Automated Within 5-6 Years
The Kia agreement comes just weeks after Germany's BMW said it was also spending $1 billion in Mexico to build a luxury car factory in north-central San Luis Potosi. That is scheduled to being production in 2019.
"Mexico has acquired unique experience during its integration into global value chains," Peña Nieto noted last month, "especially in the automotive industry."
Latest Chapter Of Globalization
Some analysts see Mexico's evolution into an international auto producer as just the latest chapter in the ongoing globalization process.
"Mexico offers both low labor costs and, importantly, Mexico is part of NAFTA (the North American Free Trade Agreement)," Jack R. Nerad, executive market analyst for Kelley Blue Book, told Benzinga.
"That means that vehicles built in Mexico are for trade and tariff purposes treated almost exactly as they would be if they were produced in the United States," he continued. "The low labor costs alone might not have been enough to interest automakers in locating plants in Mexico, but the NAFTA advantages have obviously swung many manufacturers in Mexico's direction."
A Snowball Effect
Nerad said that, while Mexico's growing strength in auto production may not be good news for U.S. labor, it is improving the bottom lines for American auto companies like Ford Motor Company (NYSE: F) and General Motors Company (NYSE: GM).
"The domestic U.S. manufacturers are taking advantage of Mexican production in exactly the same way that other global manufacturers are doing so," he added.
In fact, he said, this growth of auto-making in Mexico has taken on its own momentum, to the point where it's able to attract companies like Kia.
"Because other auto manufacturers have located plants in Mexico," Nerad said, "there is a robust community of suppliers and vendors in Mexico to service auto producers."
View Comments and Join the Discussion!
Posted-In: automotive automotive industry automotive production commentsEmerging Markets Top Stories Economics Markets Best of Benzinga