Autodesk, Local Motors Collaborate On Spark 3D Platform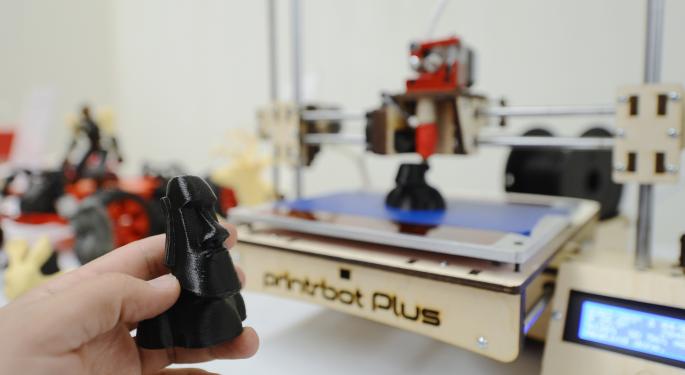 Local Motors, the company that made headlines last week when it created the world's first 3D-printed car at IMTS in Chicago, just announced a collaboration with Autodesk, Inc. (NASDAQ: ADSK) utilizing a new open platform for 3D printing.
Spark Platform
The platform, called Spark, was introduced earlier this year by Autodesk. Spark was designed to make it "simpler and more reliable to print 3D models and easier to control how that model is printed."
According to a press release, Spark would be utilized in the development of Local Motors' Strati 3D printed automobile, making this the first large-scale industrial application of the Spark platform.
Related: Local Motors Making World's First 3D-Printed Car
Quicker Connections
Alex Fiechter, head of community management for Local Motors, wrote, "The Spark platform is set to accelerate manufacturing innovation. From capturing our ideas more accurately to guiding Design for Additive Manufacturing (DFAM) and simplifying the creation of machine code, Spark will help us to turn digital models into an actual physical production part far faster than was previously possible."
Essentially, Spark would help connect digital design information to the BAAM (Big Area Additive Manufacturing) machine created by Oak Ridge National Laboratory (ORNL) and Cincinnati Incorporated.
Using Spark would streamline the process and allow for "easier visualization and optimization of 3D prints" according to the press release.
Related: 5 Ways 3D Printing is Taking Over The World: Ford Motor Company, Stratasys, Ltd. & More
Presto Chango
This is important because the Strati is comprised of fewer than 50 parts (versus 25,000 in a traditional automobile). This meant that 3D printing would allow the manufacturer to change the design or even adopt an entirely new one with no need to change tooling and in much less time, thanks to the use of the Spark platform.
Local Motors CEO Jay Rogers told WGN in Chicago, "You could think of it (Strati) like IKEA, mashed up with Build-A-Bear, mashed up with Formula One."
According to Rogers, "Because you can literally print the car any way you want, if your family goes from two people to three -- with a child, you trade in and recycle the center part of your car and all the components that outfit the family. Whatever you can imagine is what this process can entail."
At the time of this writing, Jim Probasco had no position in any mentioned securities.
Posted-In: 3D autodeskTech Best of Benzinga
View Comments and Join the Discussion!