NYSE Tops 2014's Most Active Stock Exchanges Before Alibaba Debut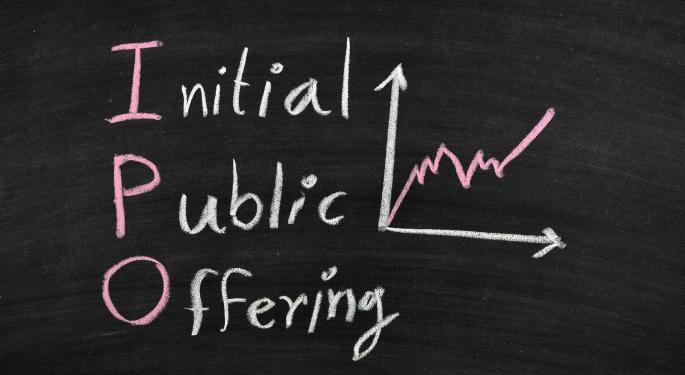 In anticipation of Alibaba Group Holding Limited (NYSE: BABA) massive IPO due on Friday and in honor of this year's outstanding year for IPOs, it seems only natural to look back at some of this year's biggest IPOs on the most active exchanges.
The top five exchanges by percent of deals and total dollars are:
NYSE: 18.8 percent, $28.7 billion
London: 14.1 percent, $21.6 billion
Nasdaq: 11.6 percent, $17.6 billion
Hong Kong: 9.7 percent, $17.6 billion,
Australian Stock Exchange: 5.3 percent, $8.0 billion.
Related Link: Gangbusters Over Dave Buster's $100 Million IPO
NYSE: Synchrony Financial
The NYSE's largest IPO was Synchrony Financial (NYSE: SYF). Formerly known as GE Capital, Synchrony Financial's IPO priced at $23, valuing the company at nearly $20 billion and raising $3 billion in proceeds.
Synchrony is up just over 6 percent after a little more than one month of trading.
London: AA PLC
London's largest IPO, AA Plc, an auto insurer and roadside-assistance provider, raised £1.4 billion in its May IPO. Private-equity owner Charterhouse Capital Partners, CVC Capital Partners and Permira Advisers used the offering as an exit strategy. Despite the selling pressure, the stock is owned by investors like BlackRock and Aviva.
Since its open, the stock has climbed nearly 29 percent.
Nasdaq: JD.com
The Nasdaq's largest IPO so far is the Chinese online retailer, JD.Com Inc (ADR) (NASDAQ: JD), which raised $1.8 billion in its debut. The company believes it can compete with the likes of Alibaba and Amazon.com, Inc. by maintain full control over the delivery infrastructure by training each member of its delivery team.
Since its May debut, the company is up nearly 40 percent.
Hong Kong: China CNR
Train maker China CNR Corp Ltd (SHG: 601229) currently sits atop the Hong Kong stock exchange as its largest IPO this year. As the second largest train manufacturer in China, China CNR raised HK $11 billion ($1.42 billion USD) and will be using the funds to expand as China invests in its high-speed railway system.
Hong Kong will be seeking to add more big-name IPOs after losing Alibaba to the NYSE earlier this year.
Australia: Healthscope
Though it has less than 5 percent of IPO activity, the Australian Stock Exchange's can still have big IPOs. The largest IPO, Healthscope Ltd. (ASX: HSO), brought in $2.1 billion in proceeds and has soared more than 9 percent since its debut late July. Healthscope operates 44 hospitals in Australia, New Zealand and Asia.
All of these IPOs precede this year's most talked about and anticipated IPO, Alibaba, which is currently slated to debut on the NYSE, this Friday, September 19.
Disclosure: At the time of this writing, the author holds no positions in the mentioned securities.
Posted-In: Alibaba Alibaba IPO IPOTopics General Best of Benzinga
View Comments and Join the Discussion!