Really, Elon? Tesla Motors Inc CEO Says His Cars Could Be Fully Automated Within 5-6 Years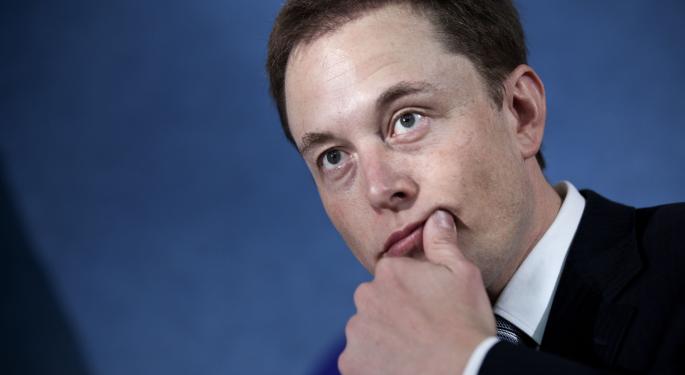 Elon Musk, tech revolutionary, business visionary and CEO of Tesla Motors Inc (NASDAQ: TSLA), is hardly a shrinking flower when it comes to forecasting his company's future plans.
Recent claims he made in Tokyo while delivering Japan's first Tesla Model S sedans, however, have been bringing out the fact-checkers.
Handing over the first Tesla Model S cars in Japan pic.twitter.com/58fzUJBjVs

— Elon Musk (@elonmusk) September 8, 2014
During an interview with the Nikkei Asian Review, Musk said Tesla cars with a semi-autonomous driving system technology could be on the road within the next three years.
Related: Toyota Motor Corp's Relationship With Tesla Motors Inc Appears To Be Far From Over
And "full auto-pilot capability is going to happen," he added, "probably, in the five- or six-year timeframe,"
Musk says while the autonomous car system and software will be programmed by Tesla, the firm expects to use "sensors and sub-components from many companies."
At least some of that self-driving technology, Musk said, will be used in a new electric vehicle –- priced in the $35,000 range –- expected to go into production around 2017.
Many Unanswered Questions
How realistic are Musk's claims? Old-school automakers like General Motors (NYSE: GM), Daimler's (OTC: DDAIF) Mercedes-Benz division and Audi (OTC: AUDVF), along with tech companies Google (NASDAQ: GOOG), (NASDAQ: GOOGL) and Intel (NASDAQ: INTC), all have plans to enter the autonomous car market.
Their projected launches are still years behind Tesla's, and industry analysts wonder if U.S. drivers and roads are anywhere near ready for self-driving cars, especially when it comes to overall logistics.
"What happens if a human-driven vehicle hits an autonomous one? " Akshay Anand, an analyst at Kelley Blue Book, asked in an email to Benzinga.
"What happens when an autonomous vehicle hits another autonomous vehicle? What happens when roads change, weather conditions become inclement, etc.? Consumer acceptance for new automotive technologies tends to be slower at first (electric vehicles being a great example), so autonomy may have to roll out bit by bit. There is also a balance that will need to be struck between the car doing too much and too little."
Related Link: Morgan Stanley Puts Brakes On Tesla Motors Inc Rally
Preparing For The Future
At the same time, Anand notes, Telsa is synonymous with advanced technology, and CEO Musk is a great pitchman when it comes to selling his ideas to the driving public.
However, he adds, Musk's claim of a fully autonomous car in five to six years seems very aggressive.
"Eventually, we'll get to a point where vehicles are more autonomous than not," Anand concludes, "which means OEMs will have to approach selling vehicles a bit differently. They'll have to transition to selling things like comfort, best use of 'time' and conveniences, and less of the pure driving aspect of automobiles."
Posted-In: alternative transportation Askay Anand automotive automotive industry autonomous vehicles electric carsTravel General Best of Benzinga
View Comments and Join the Discussion!