What Does Chief Technology Officer Of The U.S. Do?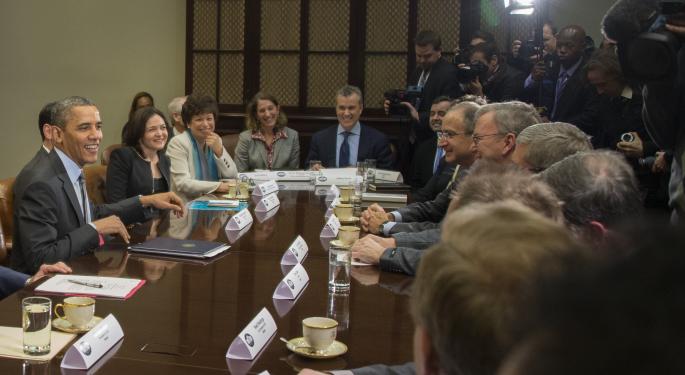 The U.S. government recently announced a new chief technology officer.
Megan Smith, formerly the vice president in charge of the Google Inc. (NASDAQ: GOOG) (NASDAQ: GOOGL) research and development lab, GoogleX, was appointed to the U.S. CTO position, just the third person to hold that title. Alex Macgillivray, a former general counsel at Twitter Inc. (NASDAQ: TWTR), was named as deputy CTO.
So, what does the CTO really do and what impact will it have on businesses?
Related Link: What Investors Need To Know About Cybersecurity
Safe, Healthy Job Growth
According to the president's Office of Science and Technology Policy, which Smith will head, the CTO is responsible for ensuring that technology is effectively applied in four key areas:
1. Help create jobs
2. Ensure that health care costs are reduced
3. Keep the nation safe
4. Promote citizen's access to broadband
Some of the CTO functions have a lot of overlap with other governmental organizations, so the person must be adept at political maneuvering, as well as having basic science and technical skills.
Slight Overlap
The task of helping create jobs is also part of the charter for the U.S. Federal Reserve and the Commerce and Labor Departments, among other entities in Washington. Keeping the nation safe is a prime function of the Departments of Defense and Homeland Security, as well. The Health and Human Services Department is mainly in charge of regulating the U.S. health care industry.
Fast, Fast, Fast
Smith's background at Google will help with part of the new job.
Google is in the process of developing technology that might help expand the reach of the Internet in the United States.
Google Fiber, being rolled out in Kansas City, Austin, Texas, and Provo, Utah, is a program that aims to provide fast fiber optic-based broadband to neighborhoods in the three cities selected so far. Project Loon, which is coming out of the GoogleX, is intended to the test the concept of using balloons, satellites and possibly drones to beam wireless signals down in remote places.
Smith will first have to successfully traverse various political minefields in order to make a dent. However, her background at the tech giant might give her a leg up in the position, at least in ensuring that more people can get access to the Internet.
Posted-In: Politics General Best of Benzinga
View Comments and Join the Discussion!