Apple Inc. Event Triggers Winners And Losers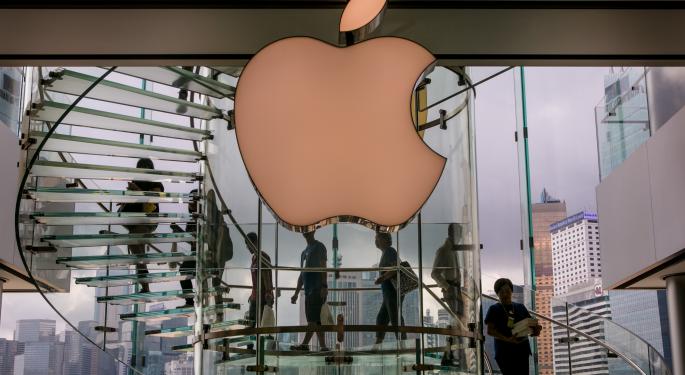 The Apple Inc. (NASDAQ: AAPL) event on Tuesday was about as epic as everyone had anticipated, once again shocking consumers and investors. The company continues to create a worldwide buzz about its products even without the late Steve Jobs.
One of the biggest announcements of the presentation -- besides the introduction of the iWatch -- was Apple Pay, the company's much anticipated entry into the mobile payment industry. That announcement alone was big enough to make losers and winners out of other companies, but it was iPhone 6 news that really tanked a company.
Losers
PayPal, which is owned by eBay Inc. (NASDAQ: EBAY), is currently one of the largest mobile payment platforms. The announcement and anticipated release of the Apple mobile payment app has caused eBAY to suffer.
Related Link: ETFs React To President Obama's Speech
Over the last week eBay has fallen 7.8 percent, and just since the since the Apple presentation it has fallen 6.7 percent. What will happen when consumers are actually able to use Apple's payment system? EBAY will need to improve and innovate PayPal to minimize losses and maximize market share.
Perhaps hardest hit by the Apple presentation is GT Advanced Technologies Inc (NYSE: GTAT).
GT Advanced Technologies emerged in November as a possible supplier for the sapphire glass Apple was rumored to be using on the iPhone 6, spiking its stock price up 123 percent in the following 10 months.
Unfortunately for the company, Apple decided not to use sapphire glass in the production of its new iPhone. Since this news, the stock has spiraled out of control -- down 25 percent in just two days, with no end in sight.
With a 50 percent gap still remaining between the current price and the price when the rumors started in November, investors are fearing the worst and dumping their shares.
Winners
Visa Inc. (NYSE: V) and MasterCard Inc. (NYSE: MA) are partnering with Apple in its payment system product and will undoubtedly improve their bottom lines as a result.
Not only will using credit or debit cards be easier than ever, Apple Pay will also likely expand the mobile payment industry as a whole, creating more partnership opportunities for Visa and MasterCard in the future.
A company of Apple's size can easily affect the stock price of a plethora of companies on big news, such as the presentation on Tuesday. Like usual, Apple has stirred the pot and continues to be one of the most innovative companies in the world.
Posted-In: Apple Apple Pay iPhone 6 iWatchTop Stories Tech Trading Ideas Best of Benzinga
View Comments and Join the Discussion!