Will 3D Systems Corporation Become A Major Player In Education?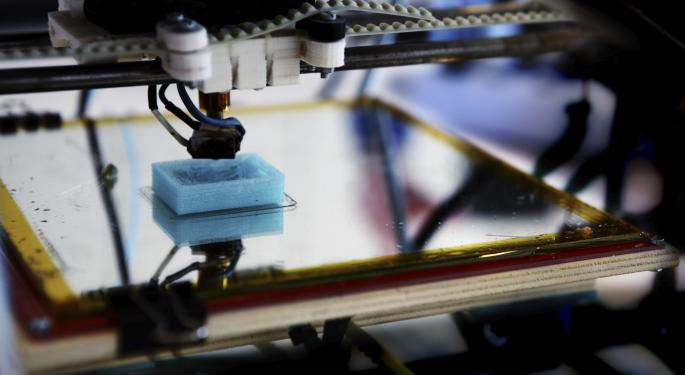 3D Systems Corporation (NYSE: DDD) planned to showcase its latest 3D printing kits and curricula for students, teachers and schools at the Smartforce Student Summit at International Manufacturing Technology Show (IMTS) 2014, currently underway through Saturday, September 13 at McCormick Place in Chicago.
Meet M.Lab21
The company said it would demo its recently launched M.Lab21 21st Century Manufacturing Lab at IMTS. According to 3D Systems, M.Lab21 utilizes 3D design and printing tech to advance high school industrial arts and career tech.
3D Systems Director of Investor Relations Stacey Witten told Benzinga that the company has worked with colleges, universities and technical schools for several years, providing customized solutions involving the use of its printers in engineering programs, industrial design curriculum and general 3D printing labs.
"Through some of our recent partnerships and bundles," Witten said, "we have been more focused on building out turn-key bundles and curriculums for K-12 programs," adding that the M.Lab21 was specifically designed for high schools in partnership with SME.
Related Link: 5 Big Companies Seriously Investing In 3D Printing
And Make.Digital, Too
In addition to M.Lab21, 3D Systems said it would debut its Make.Digital Educational Platform at IMTS.
According to Leanne Gluck, director of social impact for 3D Systems, "Digital literacy through hands on, project-based learning using 3D printing technology is a key to instilling tomorrow's skills today."
The company's Make.Digital Initiative was designed to provide students opportunities to utilize 3D technology as a means to engage in real-world problem-solving through project-based learning.
Part of 3D Systems' commitment to the initiative involves providing 3D tools and equipment at a discount to educational institutions.
Witten said the starter kit for K-12 level programs starts at $1,500 and includes a 3D printer, materials, cartridge subscription, multiple seats of 3D design software and a Sense 3D scanner.
'There Is A Meaningful Business Opportunity In Education'
Apple (NASDAQ: AAPL) worked to become the defacto computing standard in schools in the 1980s. Does 3D Systems have similar aspirations in the 3D space?
Witten said, "We believe there is a meaningful business opportunity in education, as well as potential for widespread adoption, but we also pursue the education marketplace because we believe in our technologies' potential to reshape 21st century education and turn STEAM into a hands on learning that applies to every child, regardless of their interest in medicine or architecture, engineering or fashion, literature or math."
"You could make some comparisons of 3DS to Apple with our overall business model," Witten noted.
By way of explanation, Witten said, "We are creating a 3D printing ecosystem providing easy to use, seamlessly integrated 3D printing solutions from content design and creation to printing and cloud solutions."
Related Link: The 5 Most Influential Companies In 3D Printing
Long-Term Goal
Finally, Witten outlined the marriage of 3D Systems' business model to its educational philosophy saying, "Our long-term goal is to bring digital literacy to youth around the world using the universal language of 3D thinking, design and printing, instilling the key skills necessary for 21st century jobs in engineering, design, health care, architecture, to name a few."
At the time of this writing, Jim Probasco had no position in any mentioned securities.
Posted-In: 3D 3D Systems Apple BenzingaNews Events Top Stories Best of Benzinga
View Comments and Join the Discussion!