Gangbusters Over Dave & Buster's $100 Million IPO?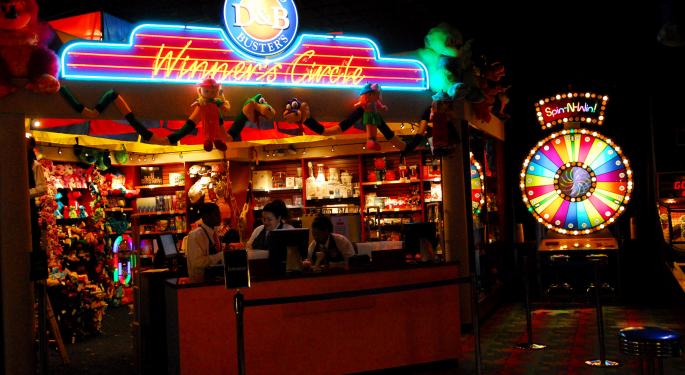 "Eat, Drink, Play, and Watch" is the value proposition for Dave & Buster's Entertainment (NASDAQ: PLAY). The indoor game and food venue filed for a $100 million initial public offering Monday afternoon through underwriters Jefferies, Piper Jaffray, William Blair, Raymond James and Stifel.
Customers of Dave & Buster's are immersed in a lively and fun atmosphere providing adults and families with a variety of interactive games, beverages and food. According to the company, "the interaction between playing games, watching sports, dining, and enjoying our full-service bar areas is the defining feature of the Dave & Buster's customer experience."
Stores average 45,000 square feet and enjoy an average EBITDA margin of 25.9 percent. Each location is designed to promote synergies between activities. The company's S-1 filing states, "we believe this combination creates an experience that cannot be easily replicated at home or elsewhere without having to visit multiple destinations."
Related Link: Shake Shack IPO Hopes To Ride Fast Casual Coattails
Financial Information
Dave & Buster's first opened its doors in Dallas, Texas, in 1982 and has expanded to its current 69 company-owned stores across the United States and Canada.
Between 1997 and 2006, the company operated as a publicy-traded company before being acquired by a Wellspring Capital Partners holding company, at which point the stock was delisted from the NYSE.
As of June 2010, the company is 95.4 percent owned by Oak Hill Capital Partners, with the remainder split among the board of directors.
From 2010 to 2012, the company operated with respective losses of $350,000, $7.29 million and $6.98 million. Thanks to a tax benefit, 2013 GAAP accounting shows a profit of $8.8 million; however, before applying the benefit the company lost $3.9 million.
Are wings your #gameday go-to? Well, we have 35 reasons you should get to your local Dave & Buster's ASAP! #football http://t.co/C1Nx8NgeRC

— Dave & Buster's (@DaveandBusters) September 8, 2014
Fiscal 2014 ended on February 2 this year. The company reported a true profit of $2.17 million. Revenues increased steadily from $520 million to $635 million between 2010 and 2013, an 8.3 compounded annual growth rate.
Margins for the various eat, drink, play segments are healthy. The gaming margin for 2013 was 85.4 percent. Food and beverage margins for the year were 74.4 percent and 76.3 percent, respectively.
Future Problems
Dave & Buster's top three risks for the future:
"our ability to open new stores and operate them profitably"
"changes in discretionary spending by consumers and general economic conditions"
"our ability to compete favorably in the out-of-home and home-based entertainment and restaurant markets."
None of the risks cited by the company involve its debt and debt service payments.
As of August 3, 2014, the company's major debt burden is a $528 million term loan, with the rest of its capitalization in the form of paid-in capital. Over the last five years, the company lost a total of $4 million to the bottom line. If debt payments were reduced by less than 2 percent, it would have broke even. Reduce the burden by 10 percent, and a $4 million loss becomes a $14 million profit over a five-year time period.
Use Of Proceeds
Dave & Buster's intends to use the offering to pay down a portion of its outstanding loans. In order to make a meaningful impact, the company will need to consider using most if not all of its IPO proceeds to loosen up its debt load. With 100 percent of its proceeds used to pay off existing loans, the interest expense could drop by as much as $8 million annually.
Conclusion
Dave & Buster's needs to deliver more details of its IPO to make it a compelling buy. For now, investors should keep an eye on deal details as they emerge. Healthy margins and room for growth make it an attractive opportunity; however, a potentially crippling debt load should be a sign to exercise extreme caution.
Disclosure: The author holds no positions in the mentioned securities at the time of writing.
Posted-In: Dave & Buster'sNews IPOs Top Stories Best of Benzinga
View Comments and Join the Discussion!