Today's Best Apple Tweets, Pre-Event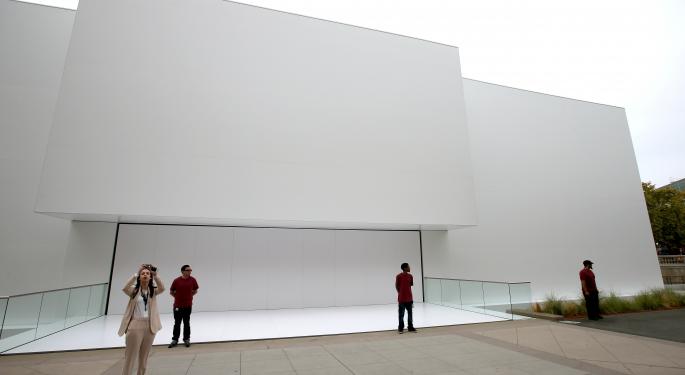 Apple Inc. (NASDAQ: AAPL) is blowing up today, and it's no secret why. The tech giant is on the cusp of its next product release event, where it's thought the iPhone, and possibly, the iWatch will be unveiled.
Naturally, fans, haters and just about everyone else is talking about Apple on Twitter. So what are they saying pre-event?
Here are some of today's best Apple tweets:
WHAT Apple is live blogging their own event. End of the world.

— Mark Gurman (@markgurman) September 9, 2014
The Apple mystery building pic.twitter.com/W2PIXpUJTq

— Danny Sullivan (@dannysullivan) September 9, 2014
TV scrum at Apple event. I'm on @SquawkAlley soon. #applelive @Recode pic.twitter.com/xKhRqiTRXI

— Walt Mossberg (@waltmossberg) September 9, 2014
U2 will play a "significant" role at today's Apple event: http://t.co/Lc0OISBdGP (via @nytimes) #AppleLive pic.twitter.com/jZASAX5Txf

— CNBC (@CNBC) September 9, 2014
Dr. Oz is at the Apple event in Cupertino -- sign of some new health tech?

— CNET (@CNET) September 9, 2014
If Apple launches EVERYTHING they've saved up all year to develop today, it will be a LONG event.

— Michael Kukielka (@DetroitBORG) September 9, 2014
Love the Twitter integration on the Apple homepage. http://t.co/Zj9BkJl5co pic.twitter.com/6ovHjX3CIm

— Paul Stamatiou (@Stammy) September 9, 2014
The real puzzle - ahead of Apple event - is the presence of so many fashion journalists. (No music journalists, which tells its own story.)

— Charles Arthur (@charlesarthur) September 9, 2014
And investors are getting in on the action too:
How Apple shares react to new products: http://t.co/jq5IXCpXDy $AAPL pic.twitter.com/mM9X1CCuTh

— Wall Street Journal (@WSJ) September 9, 2014
Doubleline's Gundlach on $AAPL: "I think AAPL looks exactly like it did before. it's overbelieved... I don't think I'd buy. I would sell it"

— Melissa Lee (@MelissaLeeCNBC) September 9, 2014
.@Carl_C_Icahn to me on $AAPL: I've been adding to my $AAPL position. Where else can you get a growth company at 10x earnings?

— Trish Regan (@trish_regan) September 9, 2014
On Apple's big day, this is incredible: $AAPL has more cash ($165 B) than 96% of 500 largest co's traded in U.S. (via @GiovannyMoreano)

— Phil LeBeau (@Lebeaucarnews) September 9, 2014
$600 billion in market cap (biggest in US history) suggests the bull case on $AAPL is definitely new

— Keith McCullough (@KeithMcCullough) September 9, 2014
Disclosure: At the time of this writing, the author had no position in the equities mentioned in this report.
Posted-In: Apple Event Apple tweets social media curationNews Events Best of Benzinga
View Comments and Join the Discussion!