How Can Mattel, Inc. And Other Toymakers Beat Lego?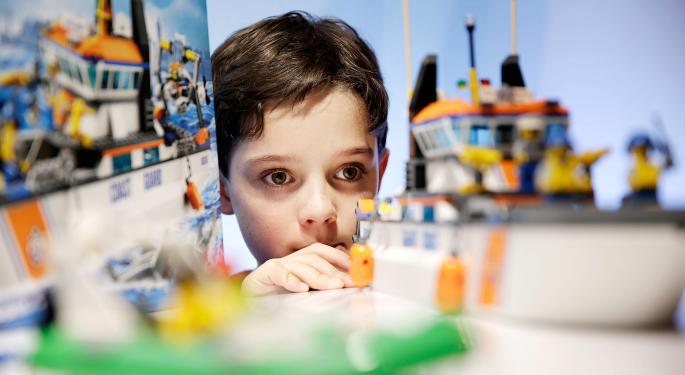 According to The Wall Street Journal, one of the main reasons Lego booked an 11 percent revenue boost in the first half of 2014 -- making it the biggest toy company in the world by sales -- was the release of The Lego Movie.
Lego saw profit in the first half of $273 million on $2.03 billion in sales. Major competitor Mattel, Inc.'s (NASDAQ: MAT) first half sales were $2 billion, representing a seven percent decline for the U.S. toymaker.
Movies Move Merchandise
Using a movie to boost toy sales isn't exactly a new idea. Mattel, along with subsidiary Fisher Price and other toymakers, had a huge presence of preexisting toys in The Walt Disney Company (NYSE: DIS) and Pixar's 2010 release of Toy Story 3.
Interestingly, the major toy makers were not very interested in the kids movie genre until the original Toy Story, released in 1995, and the sequel, which came out in 1999, became popular (and licensed movie-related toys sold like hotcakes).
Related Link: Mattel Misses Q2 Earnings Estimates on Weak Sales
Big Screen Barbie
Although rumors of Toy Story 4 have not come true, Sony Corporation (NYSE: SNE) subsidiary Sony Pictures and Mattel announced in April that a Barbie live-action movie, in which Barbie plays a Mary Poppins-like character, was in the works.
According to the press release, "While it's an overused word, Barbie truly is a legend, a cultural symbol whose career choices have been as unlimited as her wardrobe. She is about empowerment, but never at the expense of fun. Our hope is to capture all of these aspects of Barbie in a modern take of the character that can appeal to moviegoers of all ages."
Clearly, Mattel also hopes to capture additional sales of Barbie merchandise. A release date for the big screen Barbie movie has not been announced.
Holiday Help
With no major movie on the near horizon, Mattel and other toymakers would likely rely on the fact that second half sales have generally been stronger than the first half –- mostly boosted by holiday shopping.
Lego, which said it would see the DVD release of Time Warner Inc's (NYSE: TWX) Warner Bros. movie in the second half, hoped to rally attention and sales as well.
Building Blocks
In addition to holiday sales and, eventually, a boost for Barbie with her own full-length movie, Mattel acquired Canadian construction and arts and crafts toy maker, MEGA Brands, in February.
This move provided Mattel with its own line of building blocks to compete with Lego, something that could play out during the approaching holiday shopping season.
Although considered by some to be a rip-off version of Legos, Mega Bloks do hold licensing rights to HALO, Power Rangers and Hello Kitty according to Forbes.
At the time of this writing, Jim Probasco had no position in any mentioned securities.
View Comments and Join the Discussion!
Posted-In: Barbie Fisher Price HALO Lego mattel Mega BrandsNews Events Best of Benzinga