How To Profit On Alibaba Before The Largest IPO In History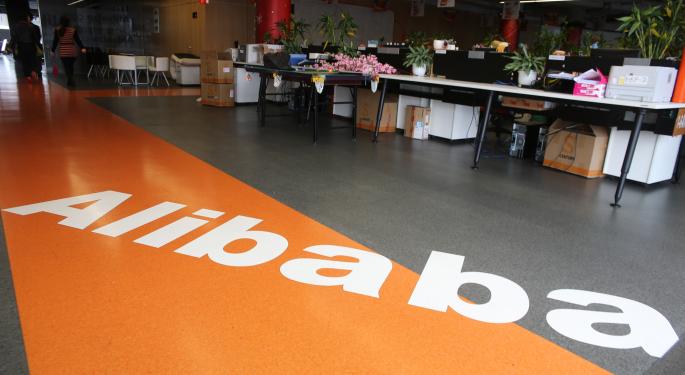 Despite all the hoopla surrounding its upcoming public offering, Alibaba (NYSE: BABA) founder Jack Ma doesn't have a great track record of timing the IPO market.
Seven years ago, Ma listed Alibaba.com Ltd. on Hong Kong's Hang Seng Index a week after it hit an all-time high. Then by end of 2008, the Hang Seng Index had dropped 55 percent and Alibaba lost more than $20 billion in market value.
Ma ended up delisted his company from Hong Kong in 2012 and is hoping for better results this time around. Investment banks are drooling over this IPO, which some analysts believe will value the company at $200 billion.
For comparison, that's nearly 20 percent larger than the $160 billion market cap of Amazon (NASDAQ: AMZN), the largest online retailer in the U.S. Although, even at those valuations, Alibaba would still only be one-third the size of Apple (NASDAQ: AAPL).
Alibaba's growth potential is simply staggering. China has 618 million Internet users, greater than the population of any other country except India. In China's rapidly growing online retail market, Alibaba holds an 80 percent market share.
Related Link: Has China Found The Bottom?
On top of that, Chinese internet companies have been hot. Tencent Holdings Ltd., operator of the WeChat instant messaging service, has seen shares rise over 330 percent since January 1, 2012.
If investors are looking to capitalize on Alibaba's IPO scheduled for next week, try asking a broker for an allotment, but it's almost impossible to get a piece of such a "hot" company.
Instead, your best bet is to load up on shares of Yahoo (NASDAQ: YHOO), which has traded as an Alibaba-proxy for some time.
Yahoo currently owns 24 percent of Alibaba and trades at a market cap of $39 billion, $4.3 billion of which is cash held on its balance sheet. Assuming a $175 billion Alibaba IPO, Yahoo's stake would be worth $42 billion on the open market, or $3 per share more than Yahoo's current market cap.
A $200 billion Alibaba IPO would value Yahoo's stake at $48 billion -- $9 billion or 20 percent higher than its current market cap. In other words, the market is currently valuing Alibaba at around $163 billion. If the IPO values the company higher than that, as many think it will, Yahoo shares should soar.
This is all assuming that Yahoo's non-Alibaba operations are worthless, which is not the case. Yahoo's revenue has declined precipitously over the past five years, but it still brings in more than $4.5 billion annually.
CEO Marissa Mayer plans to sell a little more than 25 percent of its Alibaba stake in the upcoming IPO, giving a major boost to the company's cash pile.
What she plans on doing with the cash is a mystery, but shareholders hope that it boosts the company's stagnant internal operations.
Tags: Alibaba Jack Ma Marissa Mayer WeChat
Posted in: News IPOs Trading Ideas Best of Benzinga