3 Grocers Working To Make Organic Food Affordable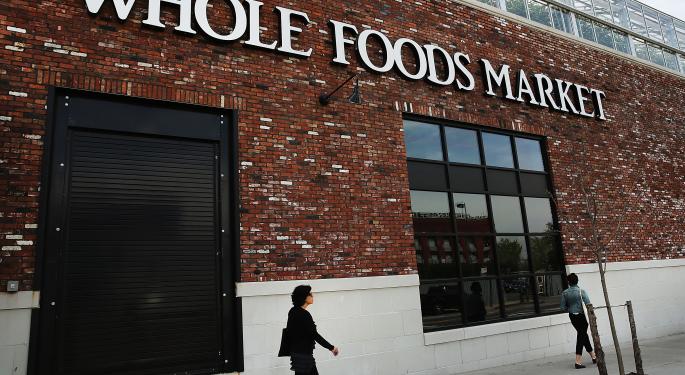 Although the term "organic" has wide latitude, many people seek out food for their families that they believe to be free from additives, pesticides, chemical fertilizers and other non-natural substances.
Large scale grocers have noticed, sparking an "organic food war" of sorts. In addition, major chains realized customers were seeking the best bargains available.
The result has been a push to make organic foods affordable.
Whole Foods Market, Inc. (NASDAQ: WFM)
The world's largest natural and organic food chain launched its 365 Organic Everyday Value lineup in 2001, an offshoot of the company's 365 Everyday Value house brand, which was launched in 1997.
Related Link: Shocker? Whole Foods Market Is Cheaper Than Kroger
Promoting organic on a budget, a Whole Foods Market blog post in 2013 suggested seven ways customers could help their families make healthy natural food choices without going broke.
Traditional ways of saving, including buying bulk, using coupons and subscribing to store newsletters, were augmented with tips to start the family's organic journey with often used items like milk, eggs and grains.
Whole Foods Market's aim to make organic affordable has also been helped by websites like Cheapism.com, which recently listed "25 Items That Are Cheaper At Whole Foods."
Wal-Mart Stores, Inc. (NYSE: WMT)
Having no desire to be left out of the organic revolution, the country's largest grocer, Wal-Mart announced in April it would team up with long-time organic provider Wild Oats to begin carrying three Wild Oats lines.
With a promise that the new lineup would be at least 25 percent cheaper than national brand organic food previously sold at Wal-Mart, the company made it clear that going organic would not hurt the pocketbooks of its cost-conscious customers.
NPR pointed out that as far back as 2006, Wal-Mart asked its suppliers to provide organic versions of popular food items that could be sold for no more than 10 percent more than the non-organic alternative.
WildOats CEO Tom Casey told NPR his company planned to keep prices low by using Wal-Mart's "world-class distribution system" to achieve a larger, more efficient scale -- something the Center for Sustaining Agriculture and Natural Resources at Washington State University's Charles Benbrook said was realistic.
Related Link: Wal-Mart Earnings Preview: Is A Disaster Looming?
The Kroger Co. (NYSE: KR)
It didn't take long for Kroger to notice Wal-Mart's ramp up of organic foods. As Kroger, like Wal-Mart, has moved to make organic more affordable, Whole Foods has felt the pressure.
One reason is because of the fact Kroger, in its larger Marketplace stores, sells more than groceries. One-stop shopping matters to busy families.
Unlike Wal-Mart, which brought in Wild Oats, Kroger took its cue from Whole Foods, developing its own line of organic foods and products called Simple Truth Organic.
Simple Truth Organic is one segment of a three-part Kroger Simple Truth lineup that also includes Natural Meat and Poultry and 101 Free, foods that exclude 101 artificial preservatives and ingredients Kroger customers said they did not want in their food products.
At the time of this writing, Jim Probasco had no position in any mentioned securities.
Posted-In: Grocery stores Kroger npr Organic Food Wal-Mart Whole Foods Market Wild OatsTop Stories Best of Benzinga
View Comments and Join the Discussion!