How 3 Companies Are Taking Green Energy Into Their Own Hands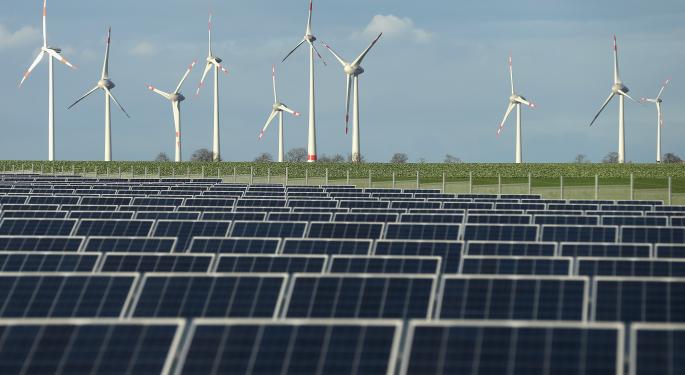 It looks like renewable energy is taking hold in the business world.
Perhaps as the result of lobbying by environmentalists, a focus away from fossil fuels by governments and as a bid to increase sales or reduce costs, many large companies have adopted a formal green energy policy.
Will the effort help investors of companies such as Ford Motor Company (NYSE: F), Verizon Communications Inc. (NYSE: VZ) and Wal-Mart Stores, Inc. (NYSE: WMT)?
Related Link: Bear Versus Bull: Who Tells The Better Story?
Solar Is Job #1
Headquartered in Dearborn, Michigan, Ford is teaming with Detroit-based utility DTE Energy Co (NYSE: DTE) to build a 68,000-square-foot solar panel to power electric vehicle charging stations located underneath the giant array.
The initiative is probably designed mainly as a marketing tool for Ford's electric car business and as a way for DTE to pump up its own revenue and profit. The electric version of the Ford Focus is priced about $11,000 more than the similar gas-powered model and might need some help to gain traction in the marketplace.
Can You Hear Me Now?
The nation's top wireless provider, Verizon, will add to its solar power capability by spending $40 million to install equipment at eight sites across the country. The company is said to have already invested $140 million in renewable energy at its wireless facilities in the western United States.
The company appears to be banking on solar to help reduce operating costs and boost profits.
Everyday Low Energy?
Wal-Mart has the most solar power installations of any company in the United States. The world's biggest private employer intends to eventually double the number of projects to 480 at its stores.
Wal-Mart is counting on lower energy costs to help reverse a slowdown in sales as the result of generally stagnant economic conditions that have recently plagued the giant retailer.
A number of big U.S. companies have jumped on the solar bandwagon in an effort to boost sales or cut operating costs. Investors might want to take a "wait and see" approach before plugging into solar.
Posted-In: Solar solar energyTopics Top Stories General Best of Benzinga
View Comments and Join the Discussion!