Benzinga's M&A Chatter for Thursday August 28, 2014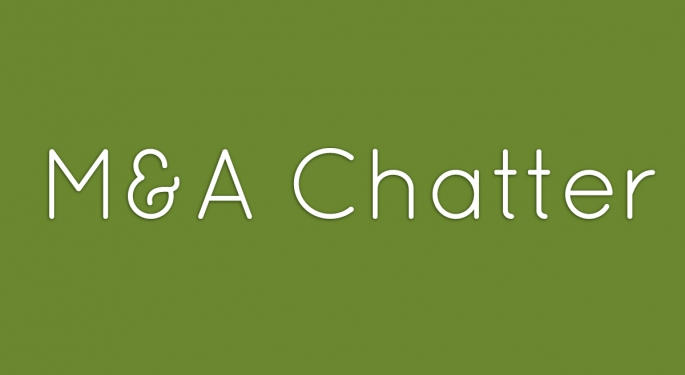 The following are the M&A deals, rumors and chatter circulating on Wall Street for Thursday August 27, 2014:
Monomoy Capital Partners to Acquire Cobra Electronics for $4.30/Share
The Deal:
Cobra Electronics (NASDAQ: COBR) and Monomoy Capital Partners II announced Thursday that an affiliate of Monomoy will acquire all of the outstanding shares of common stock of Cobra Electronics for $4.30 per share in cash. An affiliate of Monomoy will commence a tender offer to purchase all outstanding shares of common stock of Cobra Electronics at $4.30 per share in cash within ten business days.
The deal is expected to close in Q4 2014.
Cobra Electronics closed Thursday at $4.28, a gain of almost 8%.
Report Deutsche Telekom Open to Talks on T-Mobile Sale at $35/Share
The Rumor:
Shares of T-Mobile US (NYSE: TMUS) spiked higher Thursday, on a report from Bloomberg, that parent company Deutsche Telekom (OTC: DTEKY) would consider an offer of $35 per share for the nations's number four mobile carrier. T-Mobile had rejected a $33 per share offer from Frances's Iliad (ILIAY) in late July.
Iliad reportedly had sought partners for its bid, following to rejection, including Google (NASDAQ: GOOGL) and Microsoft (NASDAQ: MSFT), but that help never materialized. Sprint (NYSE: S) parent Softbank (OTC: SFTBY), ended its pursuit of T-Mobile, soon after the Iliad bid surfaced. That deal faced uncertain regulatory issues.
T-Mobile closed Thursday at $29.84, a gain of more than 1%.
EZchip Shares Rise on Report of Conference Cancellations
The Conference Cancellations:
Shares of EZchip Semiconductor (NASDAQ: EZCH) surged higher Thursday, on the report that the Israel-based company had cancelled out of multiple conferences. Stocks move on such reports, in the belief that cancellations could mean a takeover deal is in the works.
A spokesperson for EZchip responded to Benzinga in an email, that the company was supposed to present at Roth, Citi and Brean conferences next week, but an unexpected matter came up requiring management to remain in Israel. He was unable to elaborate on the reason.
EZchip Semiconductor shares closed Thursday at $27.96, a gain of more than 10%.
View Comments and Join the Discussion!