Benzinga's M&A Chatter for Monday August 25, 2014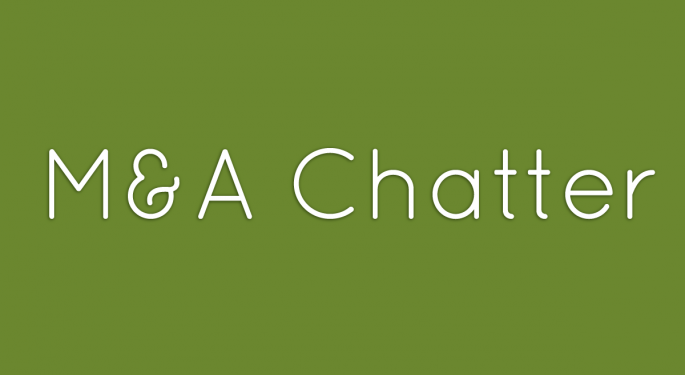 The following are the M&A deals, rumors and chatter circulating on Wall Street for Monday August 25, 2014:
Amazon to Acquire Twitch for ~$970M in Cash
The Deal:Amazon.com (NASDAQ: AMZN) announced Monday, that it has reached an agreement to acquire the live video platform for gamers, Twitch Interactive for approximately $970 million in cash. The deal is expected to close H2 of 2014.
Amazon closed Monday at $334.02, a gain of $2.43.
UBS Analyst Says Achillion is a Takeover Candidate
The Analyst Comments:
Shares of Achillion Pharmaceuticals (NASDAQ: ACHN) rose Monday on a note from UBS analyst Andrew Peters that the stock could be a takeover candidate. Following Sunday's announcement of Roche's (OTC: RHHBY) deal to acquire Intermune (NASDAQ: ITMN), investors and analysts have been scrambling to find the next target.
Achillion Pharmaceuticals closed Monday at $10.78, a gain of 10% and rose another 7% after-hours on CNBC comments.
Tim Hortons, Burger King Confirm Merger Talks
The Talks:
Tim Hortons (NYSE: THI) and Burger King Worldwide (NYSE: NKW) confirmed Sunday, that they are in talks regarding a potential merger. The deal would created a publicly-listed company, headquartered in Canada. Burger King's majority owner 3G Capital, would continue to own the majority share of the new company.
There is no assurance of an agreement. The companies do not intend to comment further unless and until a transaction is agreed upon or discussions are discontinued.
Burger King Worldwide closed Monday at $32.40, a gain of 19%, while Time Hortons gained 19% to close at $74.72.
Comtech Release Confirms Exploration of Strategic Options
The Stategic Options:
Comtech Telecommunications (NASDAQ: CMTL) confirmed Monday, following halt in trading, in response to a report from Reuters, that it is exploring strategic alternatives to enhance shareholder value, including a potential sale of the company. There can be no assurance that any transaction will occur as a result of this exploration of alternatives.
Comtech closed Monday at $36.81, a gain of almost 5%, and traded another 2% higher, after-hours.
View Comments and Join the Discussion!