The F-35 Program Continues Its Struggles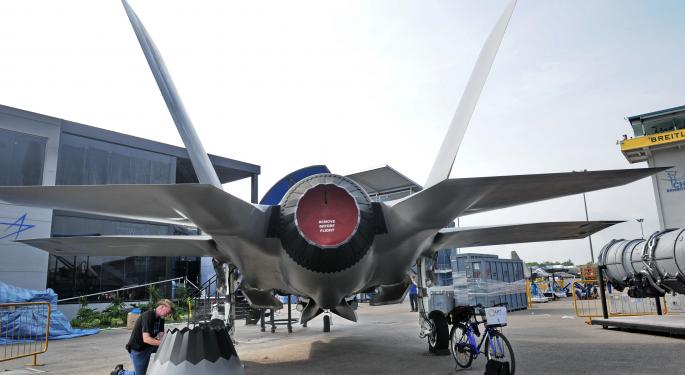 Much has been written about the troubled F-35 Joint Strike Fighter program over the last decade.
Cost overruns, schedule slips and reliability issues have plagued the fifth-generation military aircraft being developed by Lockheed Martin (NYSE: LMT).
Three versions of the F-35 will be deployed by the U.S. Air Force, Marines and Navy. The United Kingdom, Italy, Australia, Canada, Norway, Denmark, the Netherlands and Turkey will also purchase aircraft over the next 20 years as part of the $1 trillion program, perhaps the most expensive in defense procurement history.
Lockheed and its suppliers, including United Technologies (NYSE: UTX), have been able to work though most of the problems so far.
Could the summer's bad news affect investors going forward?
Flameout
During a June 23 flight-testing in Florida, the engine on an "A" variant of the F-35, the model to be used by the Air Force, caught fire during ground operations prior to takeoff. The pilot was able to abort the mission before a serious safety incident occurred.
Related Link: How To Profit From The Internet Of Things
The fire was reportedly a "one-time" event and not a systemic problem with the aircraft's state-of-the-art F135 powerplant, which is manufactured by the Pratt & Whitney division of United Technologies.
The fire resulted in flight restrictions and prevented the aircraft from making an appearance in July at the famous Farnborough Air Show in England, one of the industry's premier events.
Cost & Schedule Overruns
The F-35 program has experienced a series of cost and schedule overruns throughout development, which has increased the average cost per aircraft to over $160 million for the "A" variant. This has stretched out deliveries by several years.
Problems such as the fire, cost and schedule overruns, while continuing to generate bad press, are not atypical during development of sophisticated, high-tech military hardware.
The fire issue could delay the program even further, however. The government was expecting that the Marine "B" variant would be in service by July 2015, but critical software testing is being impacted by the flight restrictions and could put that date in jeopardy.
Despite problems, shares of Lockheed Martin have steadily gained over the summer months. The stock is up more than 6 percent since June 23. United Technologies, however, is down 7 percent over that same period.
View Comments and Join the Discussion!
Posted-In: F-35 marines U.S. Air Force U.S. NavyTech General Best of Benzinga