Batman vs. Superman Shaping Up To Be JLA Preview With 'Flashy' Growing Cast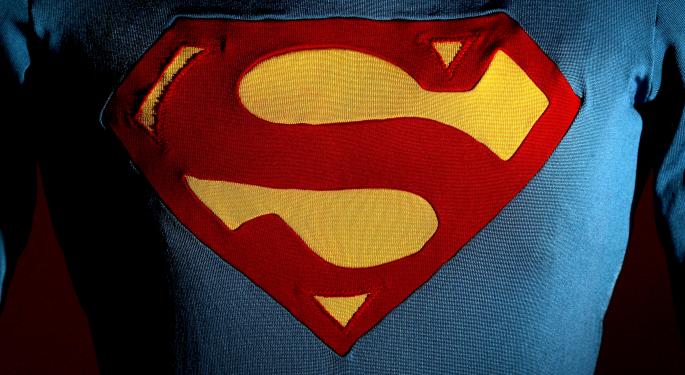 The heat is on as Batman v Superman: Dawn of Justice (NYSE: TWX) continues filming.
With at least one pump photo released per day lately from a variety of onlookers and journalists creeping around the set, blogs and news sources have been saturating the Internet for eager fans drooling over the next shot of Ben Affleck on set (fingers crossed for some Batman gear soon) or for leaks into what characters will be appearing and what sort of part they'll play.
Because of the rich history D.C. has in the public's mind both on screen and elsewhere (just about everywhere), in seems like Zack Snyder and company are banking on the fact that characters like Batman, Wonder Woman, and the heavily rumored appearances of Aquaman and The Flash.
Stop by the @DCComics booth at #SDCC to see this new image of @BenAffleck on their #Batman75 wall! #BatmanvSuperman pic.twitter.com/6JGvfVdUJZ

— Batman v Superman (@BatmanvSuperman) July 24, 2014
Internet Rumors
Speculation over the appearance of Aquaman and The Flash has been a hot Internet item that it already seems like many have Scoot McNairy of Argo pegged as The Flash after a "scandalous" photo release of McNairy wearing green leggings from just under the knees and down. This suggests that there's special effects work to be done, and has bloggers racing to the conclusion that he'll be playing the man in red with lightening speed.
Related: Warner And DC Comics' Six Dynamite Moves Leading Up To 'Batman Vs. Superman'
It could also be possible that McNairy will be playing cyborg super villain Metallo, as suggested by MTV (NASDAQ: VIAB) writer Alex Zalben. Perhaps he looses his legs to a horrible accident and has them replaced with sophisticated robotic ones. Plastic man was also tossed out as a possibility by Yahoo (NASDAQ: YHOO) writer Ned Ehrbar.
Of any way it could go, it seems that the CGI leggings sneak peak pics have rivaled Henry Cavill's cloaked Superman costume pictures as the top story for superhero movie geeks.
Reverse Play
In many ways, D.C. is going for a play that reverses Marvel's process. Opposed to building up to a superhero mashup, they're tossing in the key hitters and letting the chips fall as they may. Spinoffs and sequels are sure to follow based on the reception of the experiment.
With others rumors floating about about Jason Momoa of Game of Thrones fame playing the confirmed Aquaman for months now, that only leaves Martian Manhunter and Green Lantern to be included for nearly a full Justice League roster. With a Flash/Green Lantern movie rumored on DC's release schedule, it's possible that those two might find small spots in this D.C. blockbuster as well.
Batman v Superman: Dawn of Justice is due out March 25, 2016.
Jason Cunningham had no position with the mentioned entities while writing this article. Visit Jason on Twitter at @JasonCunningham and @Benzinga.
Posted-In: Batman V Superman: Dawn of Justice Ben Affleck Henry Cavill Jason Momoa Scoot McNairy Zack SnyderTech Best of Benzinga
View Comments and Join the Discussion!