Benzinga's M&A Chatter for Wednesday August 20, 2014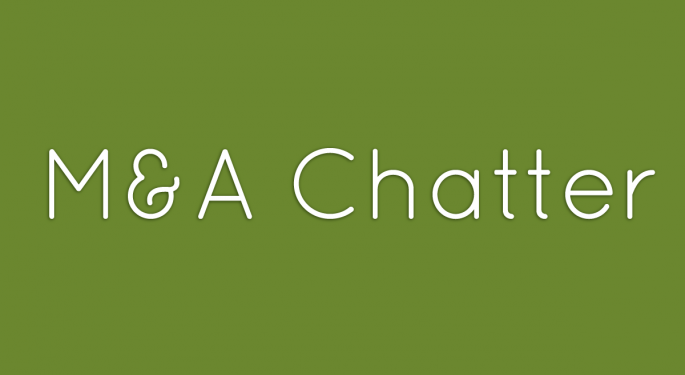 The following are the M&A deals, rumors and chatter circulating on Wall Street for Wednesday August 20, 2014:
Infineon to Purchase Int'l Rectifier for $40/Share in Cash
The Deal:
Infineon Technologies (OTC: IFNNY) and International Rectifier Corporation (NYSE: IRF) announced Wednesday that they have signed an agreement under which Infineon will acquire International Rectifier for $40 per share in cash. The transaction is valued at approximately $3 billion.
The deal is expected to close in late calendar year 2014 or early calendar year 2015.
International Rectifier shares closed at $39.10 Wednesday, a gain of 47%.
NY Post Reports Iliad Speaking to Google, Microsoft About Funding T-Mobile Bid
The Rumor:
France's Iliad (OTC: ILIAY), which offered $33 per share for a 57% stake in T-Mobile (NYSE: TMUS) on July 31, is reportedly in talks with Google (NASDAQ: GOOG) and Microsoft (NASDAQ: MSFT) regarding an increased bid, according to the NY Post. Iliad's original bid was rejected by T-Mobile and shares of the fourth-largest U.S. carrier have fallen from the high on August 5 of $34.95 to Tuesday's closing price of $28.95.
Spokespersons for Iliad and T-Mobile did not respond to requests for comment on the report.
T-Mobile closed Wednesday at $29.67, a gain of 2.5%.
Hellman & Friedman Made Offer for Shutterfly, Bain Capital Also Showing Interest, Could Be Valued at ~$2B, Deal Could Be Reached as Soon as Sept
The Rumor:
Share's of Shutterfly (NASDAQ: SFLY) spiked to a high of $54.78 on Wednesday, following a report from Bloomberg that Hellman & Friedman and Bain Capital are among companies that have expressed an interest in the digital photo company. According to sources, Shutterfly could be vauled at $2 billion in a sale.
Shutterfly has been the subject of frequent takeover rumors over the past two months. Spokespersons for Shutterfly, Bain and Hellman and Friedman declined comment.
Shutterfly closed Wednesday at $50.47, a gain of more than 1%.
View Comments and Join the Discussion!